Headley gets a breather
Headley gets a breather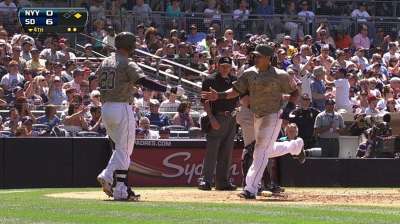 SAN DIEGO -- Chase Headley got a rare day off on Saturday as manager Bud Black opted to take the third baseman out of the lineup against the New York Mets. Black said the move was strictly for rest and not injury-related.
Headley has played in 108 games this season despite missing the first two weeks with a fractured thumb, and he missed just one game in 2012.
"He hasn't had many days off, so it's good to get him some rest, physically and mentally," Black said. "The last five or six games, he has been going at it pretty hard both ways. Sometimes it's good for a guy not to start a game, to rest part of a game. I told him last night."
With Headley out of the lineup, Logan Forsythe got the start at third base. Forsythe has made just one other start at the hot corner this season. Black said Headley may enter the game as part of a double-switch should the situation arise.
Tim Powers is a contributor to MLB.com. This story was not subject to the approval of Major League Baseball or its clubs.