Leyland finds defense to be issue for many pitchers
Leyland finds defense to be issue for many pitchers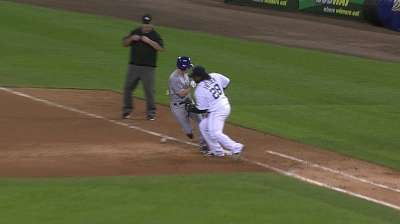 DETROIT -- It seems like a simple play when a pitcher is forced to field his position or make a pickoff attempt and make a throw to a base. Yet it appears to be anything but easy with how many throws end up going down the right-field line.
Jeremy Bonderman's two-base throwing error on a pickoff attempt in the second game of the Tigers' doubleheader on Friday was just the latest example. Entering Saturday, there have been 231 errors committed by pitchers this season.
"Well, I think sometimes they are so focused on throwing the ball at that little area behind the plate that when you ask them to do something different it's a totally mind-confusing thing for them," manager Jim Leyland said. "I don't think there's any question about that."
For the Tigers, it brings back the painful memories of five errors by Detroit pitchers in the 2006 World Series. There's an advantage for hitters who are fast runners that can lay down a decent bunt and force a throw from a pitcher.
"We work every day in Spring Training, talking about bringing the ball in, boom, throw it to first base," Leyland said. "If you watch a ground ball to the pitcher tonight that's to his left one step, he's going to run over and flip it underhand to the first baseman. So it shows you they're just not comfortable doing these things."
Jason Beck is a reporter for MLB.com. Read Beck's Blog and follow him on Twitter @beckjason. Bobby Nightengale is an associate reporter for MLB.com. This story was not subject to the approval of Major League Baseball or its clubs.