Washington pleased with plan to expand replay
Washington pleased with plan to expand replay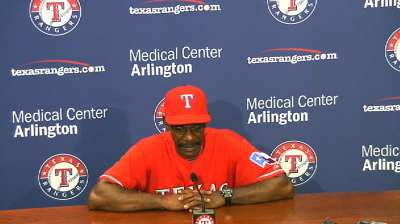 ARLINGTON -- Major League Baseball plans to expand the usage of instant replay next year. It would allow managers three challenges a game, one challenge for the first six innings and two after that point, similar to the NFL's model. Rangers manager Ron Washington doesn't see the league incorporating a coach in the press box or access with replay to help guide his decision to challenge a call like the NFL does.
"I don't think so," Washington said. "It may happen. ... I think it's going to be nice because there's some plays you see where you know for a fact the guy was safe or out. The base coaches are going to come into play a lot. They're going to have to come in there and see what happens and give the manager a heads up on what they think. I'll take their opinion."
Washington said by the time that system happens in baseball, he'll be retired. The Rangers skipper might've challenged a few plays from Friday's game if the system was already in place. He argued three close calls against the Mariners, two at second base and one at home plate. A.J. Pierzynski and Elvis Andrus were thrown out at second and home plate and Ian Kinsler received an error when he failed to touch second base on a possible double play opportunity.
Washington went back to look at the plays after the game and felt second-base umpire Angel Hernandez and home-plate umpire Doug Eddings made the right calls.
"They were in good position," Washington said. "As long as they're getting good position, you can deal with them being where they're supposed to be and maybe making a bad call, but it irritates you when they're out of position and make a bad call.
"Not only is it giving you as the manager an opportunity to do some challenging, but it also gives the umpires the chance to focus on their job a little harder, too. Will they be wrong sometimes? Yes, but I guarantee you most of the time they'll be right because now they've got to fight to get in the right position because they're being scrutinized."
Master Tesfatsion is an associate reporter for MLB.com. This story was not subject to the approval of Major League Baseball or its clubs.