Rangers continue to give Felix fits as Mariners fall
Rangers continue to give Felix fits as Mariners fall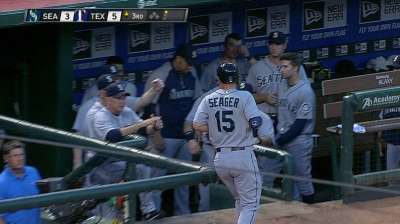 ARLINGTON -- Felix Hernandez might be Superman against most clubs, but the Rangers continued being his Kryptonite as Texas topped the Mariners, 15-3, in a Saturday night blowout at Rangers Ballpark.
Hernandez gave up five runs -- all in the second inning -- and five hits with five walks before being replaced after five frames, equaling his shortest start of the year.
The Rangers broke things open with eight runs in the eighth inning as they rolled to their 15th win in the past 18 games to improve their American League West-leading record to 71-52.
"They have a pretty good lineup," Hernandez said. "They battle a lot. They have a pretty good approach against me. And if you make a mistake, they're going to hurt you."
Seattle's ace hasn't won at Arlington since Sept. 28, 2010, and is 5-9 with a 4.45 ERA in 18 career starts in Arlington. The nine losses are the most of his career at any visiting park, as he's never lost more than five games in any other stadium outside Safeco Field.
But this was a rougher go than normal for Hernandez, particularly in the second inning when he needed to throw 37 pitches.
"He left some balls in the middle of the plate and we took advantage of them, which is exactly what we're supposed to do," said Rangers left fielder David Murphy, whose two-run double was the big blow. "He's a great pitcher, but you'd like to think if we're a big-league lineup and we're getting pitches -- fastballs -- over the middle of the plate that we're going to do something with those."
Hernandez had been outstanding of late, going 7-1 with a 2.11 ERA over his last 14 starts. But the loss leaves him at 12-6 with a 2.47 ERA, dropping below the Yankees' Hideki Kuroda (2.41) for the American League ERA lead.
This definitely wasn't a command performance for one of baseball's premier starters. His five walks were the most he's issued since June 12, 2011, against the Tigers.
"He was rushing a little bit, more so than he has in the past," said acting manager Robby Thompson. "For whatever reason, his command of the ball wasn't like it normally is. Sometimes you can tip your cap to those guys over there, who laid off a lot of stuff. The one inning he walked three guys, which is uncharacteristic of him. It was one of those nights when Felix didn't have his 'A' game."
That was evident to Rangers manager Ron Washington as well.
"One thing you have to do against 'King', and it was odd tonight, usually when you gets a lead he knows how to take it home," Washington said. "We made him throw balls in the strike zone. When he's at his best against us is when he's out of the strike zone.
"His stuff is so good that you can't just sit there and say, 'OK, that's a ball.' We see him so much. We see him a lot. It seems like every time we play Seattle, we face Hernandez. You don't ever want to feel like you have anything against him because you never know what's coming the next time you see him."
Hernandez is 12-19 with a 3.93 ERA in 38 career games against Texas, including 0-3 with a 5.55 ERA this year.
With Kyle Seager leading the way, the Mariners kept some initial pressure on Texas southpaw Martin Perez, a 22-year-old Venezuelan.
Seager continued his Arlington assault with a 2-for-4, two-RBI night that included a second-deck solo shot in the third, his 19th home run of the season. The young third baseman has hit .531 (17-for-32) with four homers this year at Rangers Ballpark and .379 (36-for-95) in his career.
The Mariners jumped on Perez for a quick run with a leadoff double by Brad Miller and an RBI single by Seager and added another in the second when Dustin Ackley singled, stole second and scored on a base hit to left by Brendan Ryan.
Seager homered in the third to make it 5-3 and the score stayed there even after Texas loaded the bases on Lucas Luetge in the sixth, as Carter Capps came on to escape that jam unscathed.
But the Rangers tacked on a pair of runs in the seventh with a two-run double by pinch-hitter Craig Gentry off Oliver Perez, then busted things wide open with eight runs in the eighth when Perez and Charlie Furbush combined to allow six hits -- including three infield singles -- along with two walks and an error.
"Going into the seventh, it's a two-run ballgame and they had the big hit to push it to a four-run game," said Seager. "And then the eighth was what it was. But we were definitely in the game and battling and they were able to get some fortunate hits there in the eighth to really push it open."
Perez and Furbush threw 61 pitches in a half-inning that took 37 minutes to complete. The Mariners were warming up outfielder Endy Chavez in case things went much further for Furbush.
"We'll forget about this one," said Thompson. "Hopefully everyone forgets about it as quickly as possible."
Greg Johns is a reporter for MLB.com. Follow him on Twitter @GregJohnsMLB as well as his Mariners Musings blog. This story was not subject to the approval of Major League Baseball or its clubs.