Crisp not expected to start until at least Monday
Crisp not expected to start until at least Monday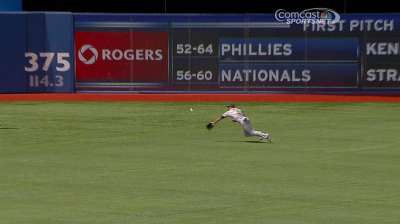 OAKLAND -- Coco Crisp's sore left wrist kept him out of the starting lineup for a sixth straight game on Saturday, and the A's outfielder isn't expected back in the until Monday at the earliest.
That didn't keep him from pinch-hitting in the eighth inning of Saturday's 7-1 loss to the Indians, flying out to shallow left-center to strand two runners in his first at-bat since Sunday.
"Probably a pretty good chance he won't be in there tomorrow," manager Bob Melvin said before the game. "Hopefully, we're looking at Monday."
With Crisp out of the mix, Yoenis Cespedes was back in center field, with Seth Smith manning left.
Jane Lee is a reporter for MLB.com. Jeff Kirshman is an associate reporter for MLB.com. This story was not subject to the approval of Major League Baseball or its clubs.