With spot open, Anderson may return to rotation
With spot open, Anderson may return to rotation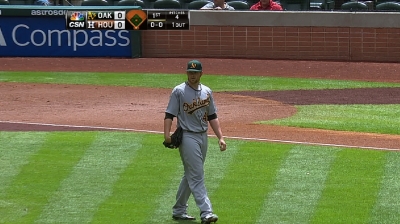 OAKLAND -- The A's made it rather clear earlier this week they'd like to have lefty Brett Anderson back as a reliever, before changing their tune on Saturday in the wake of news that starter Bartolo Colon is headed to the disabled list.
Now, manager Bob Melvin says, Anderson could indeed assume starting duties upon his return from a stress fracture in his right foot.
That much was clear when they opted to start him in Triple-A Sacramento's game on Saturday, rather than pitch him in relief, as originally planned. And instead of going two innings in the rehab stint, the goal was three, with 50 pitches total being his limit.
Anderson got to 49 pitches before being pulled with one out in the third inning. He gave up two earned runs on three hits with three walks and two strikeouts.
"Really, the only difference is we're pitching him one more inning, and he's starting the game," Melvin said. "More than anything, it's about keeping our options open with Brett and where our needs are when he's potentially ready to come back."
Lefty Tommy Milone will start in place of Colon on Sunday, though his inconsistencies this season make Anderson's availability as a starter all the more ideal for the contending A's.
Jane Lee is a reporter for MLB.com. Jeff Kirshman is an associate reporter for MLB.com. This story was not subject to the approval of Major League Baseball or its clubs.