Perez defeats his idol as Rangers crush Mariners
Perez defeats his idol as Rangers crush Mariners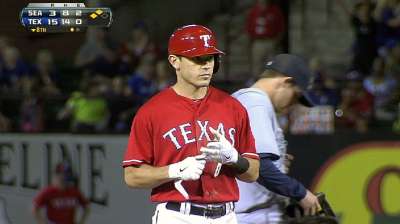 ARLINGTON -- Martin Perez left the mound to a standing ovation, raising his glove to acknowledge the 44,247 fans at Rangers Ballpark that watched the Rangers defeat the Mariners, 15-3, on Saturday night. But Perez didn't just beat Seattle, he dethroned King Felix, his idol and fellow Venezuelan Felix Hernandez, for at least one night.
"All of Venezuela, I got a lot of fans and they told me before the game, 'We'd be more happy if you win that game,'" Perez said. "We won, and I don't know how many messages I have on my phone, but it's great. To pitch this game with Felix Hernandez in the game, I feel pretty good."
With the win and the A's 7-1 loss to the Indians, the Rangers increased their American League East to 1 1/2 games.
The Rangers scored five runs off Hernandez in the second, which started on a base hit from Adrian Beltre, who barked at his former teammate on his jog to first. Mitch Moreland loaded the bases with no outs on a four-pitch walk, and the bottom of the lineup capitalized, with Jurickson Profar and David Murphy driving in three of the five runs. Murphy has 16 career RBIs off Hernandez, the most by any player against Seattle's ace.
"I think he left some balls in the middle of the plate, and we took advantage of them, which is exactly what we're supposed to do," Murphy said. "He's a great pitcher, but you'd like to think if we're a big league lineup and we're getting pitches -- fastballs -- over the middle of the plate that we're going to do something with those."
Hernandez is 12-19 in 38 career starts against Texas, surpassing Chuck Finley for the most losses by an opponent in Rangers history. He lasted just five innings, walking five and striking out four.
"One thing you have to do against 'King', and it was odd tonight, usually when you gets a lead, he knows how to take it home," Rangers manager Ron Washington said. "We made him throw balls in the strike zone. When he's at his best against us is when he's out of the strike zone. His stuff is so good that you can't just sit there and say, 'OK, that's a ball.'"
Perez wasn't as dominant as his first complete-game performance last Sunday against the Astros, perhaps shaking off the nerves of facing his idol, but he gained control as his outing progressed.
He allowed a run on consecutive doubles to start the game and give the Mariners a quick 1-0 lead, but picked off Kyle Seager at second during Michael Morse's at-bat to avoid any more damage.
Seager went deep off Perez in the third into the home run porch in right field to trim the Rangers' lead to 5-3, but the left-hander retired 11 of the final 14 batters he faced and pitched into the eighth.
"He didn't let the game get away from him, and that's part of his growth," Washington said. "He kept his poise out there trying to see if we can get another inning, but I didn't want him to have a bad taste in his mouth if things got out of control."
Perez's biggest threat occurred in the fourth, on a leadoff double to Raul Ibanez, who was stranded at third as Perez retired the bottom of the lineup in order. He struck out Brendan Ryan on an 88-mph changeup to end the inning.
"I think my best pitch was the changeup," Perez said. "When you have just that one [pitch], you have to compete with one pitch. That's what I did tonight. I had my slider good, my curveball and changeup were there, so I just used them."
Perez allowed three runs on eight hits in seven-plus innings. He struck out five and walked one, throwing 60 of his 97 pitches for strikes. Perez is now 3-0 with a 2.42 ERA in three August starts. He has pitched four consecutive quality starts.
"He's thrown some real good games for us," Washington said. "You're watching him grow in front of your eyes, but as I always say, a couple outings don't make a season. Just let the kid continue to pitch, continue to have fun, continue to grow and watch it and enjoy it."
The Rangers tacked on 10 runs off the bullpen. Pinch-hitter Craig Gentry doubled down the third-base line off Oliver Perez in the seventh to plate a pair. Texas scored three runs on infield singles from Beltre, Profar and Gentry in an eight-run eighth. The blowout allowed for the Texas debut of Adam Rosales, who recorded an RBI in the eighth on an error by Ryan.
Texas scored a season-high 15 runs, and it was just the fourth time in club history it scored as many as 15 runs without a home run.
"There's a time this year where we might get those five runs, and we might not add on the rest of the game," Murphy said. "There might be a sense of contentment, and this offense is not content until the last out is made. We're going to use every one of our 27 outs, and that's exactly what we did tonight."
The Rangers had nine different players record a hit, but even with the late offensive production and the 37-minute eighth inning, the night was all about Perez.
"The ball is crazy; sometimes you throw good, sometimes you throw bad," Perez said. "This thing now is big for my career, and I just want to continue and just want to do the same thing every time, same adjustments. Don't look around and continue to throw strikes, that's for me. If you can throw strikes at this level, you can win a lot of games."
Master Tesfatsion is an associate reporter for MLB.com. This story was not subject to the approval of Major League Baseball or its clubs.