Ubaldo flirts with no-no as Tribe sinks A's
Ubaldo flirts with no-no as Tribe sinks A's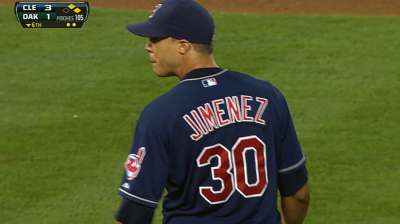 OAKLAND -- Around the fifth inning on Saturday night, Indians starter Ubaldo Jimenez started reflecting back on the no-hitter he spun against the Braves four seasons ago. His latest outing had a familiar feel to that magical night back in his Rockies days.
"Especially because I walked six guys in that one," Jimenez said with a grin.
Jimenez reduced that figure to five free passes on this evening against the A's, though he did add a hit batsmen in his flirtation with both danger and history at the Coliseum. The performance was not pretty, and it was far from perfect, but it helped guide the Indians to a 7-1 victory over Oakland.
Backed by an offensive outburst, which included five runs over the final four innings and a long-awaited breakout showing from shortstop Asdrubal Cabrera, Jimenez and the Tribe improved to 3-2 with four games left on this three-city road trip. The win also pulled the Indians to within 3 1/2 games of the A's, who lead the pack in the race for the American League's second Wild Card spot.
Cleveland has six weeks to make up ground in both the Central and Wild Card standings.
"We've got to pull off some wins and we've got to do it quick," Indians first baseman Nick Swisher said. "We're still in this thing, and we're going to keep fighting to the end, no doubt about it."
With a no-hitter intact through five innings, Jimenez wanted to keep fighting until the end on Saturday, even through his pitch count had climbed beyond the century mark.
The moment of truth came with two outs in the sixth inning, when Jimenez faced Josh Donaldson with runners on first and second base. Jimenez had hit Josh Reddick in the back of the right shoulder with a pitch and walked Yoenis Cespedes, but the right-hander struck out Brandon Moss to set up the meeting with Donaldson.
Sitting at 104 pitches, Jimenez might have assumed he would be done after the sixth inning no matter the outcome of the at-bat at hand.
"No, I don't think so," Jimenez disagreed. "I had it in my mind that, if I'm able to get the last guy out without giving up a hit, I was going to ask to go back out there."
Indians manager Terry Francona had a different take on the situation.
"When you're in the sixth inning," Francona said, "we're just trying to win a game."
Donaldson sent the first pitch up the middle, bouncing into center field for a single, ending Jimenez's no-hit run at 23 batters. The base hit plated Reddick to trim the Tribe's lead to 3-1, and prompted Francona to emerge from the dugout to pull Jimenez from the contest.
Jimenez ended with 105 pitches and the lone hit relinquished in 5 2/3 innings, during which he piled up eight strikeouts to help counter the five walks issued. Jimenez improved to 6-4 with a 2.90 ERA over his past 15 starts, dating back to May 27. Over that span, the righty has averaged 5.2 walks per nine innings and posted a 1.48 WHIP (walks plus hits per inning pitched).
The starter has become the living, breathing definition of "effectively wild."
"However he gets there, he finds a way," Francona said. "When he gets to that sixth inning, that's the inning that's been tough for him to get through. Regardless of how many pitches he has or doesn't have, he seems to kind of run into a little bit of a wall there. But, if it happens, and he's given up one run, we'll take it."
After scoring only two runs in Friday's loss, the Indians bounced back with a sound showing against A's starter Dan Straily and the Oakland bullpen. In a two-run first inning, Swisher launched his 13th home run of the season and Cabrera snapped out of an 0-for-20 funk with an RBI single. Cabrera came through again in the sixth with a run-scoring double.
Cleveland spread the game out late thanks to a solo homer from Michael Bourn in the seventh and a three-run burst -- highlighted by Jason Kipnis' two-run single -- in the ninth inning.
"The final score was not indicative of the game," Francona said.
Francona felt one of the biggest turning points came in the sixth inning, when lefty Rich Hill took over for Jimenez. With two outs and two runners on base, Hill struck out pinch-hitter Chris Young and sprinted off the mound as the Coliseum crowd groaned. The rest of the Tribe bullpen followed suit, finishing what Jimenez started.
Jimenez issued two walks in each of the third and fourth inning, and ran into the dicey situation in the sixth, but he put on a clinic in damage control. That has been a trend this year for Jimenez, who has the second-highest walk total (70) in the American League and the highest rate of walks per nine innings (4.91) among qualified AL starters.
Walks were also a problem last season, when he went 9-17 with a 5.40 ERA, but Jimenez said he has made a mental adjustment this year.
"Something that I've put in my mind is not to pitch scared of walking guys," Jimenez said. "If I walk them, just go after the next hitter. It's not like I want to walk guys, but it's been a part of me. ... The main thing is just to go after the next hitter and just forget about the walk."
That has paved the way for outings such as Saturday's enigmatic gem against the A's.
Jimenez did not get the no-hitter this time and, given the chance, he might have needed upwards of 150 pitches to possibly finish the feat. He did, however, at least have a chance to reminisce about April 17, 2010.
"Definitely," he said with a smile. "It brought a lot of good memories for me from that no-hitter against Atlanta."
Jordan Bastian is a reporter for MLB.com. Read his blog, Major League Bastian, and follow him on Twitter @MLBastian. This story was not subject to the approval of Major League Baseball or its clubs.