Padres' new padre Hundley helps derail Mets
Padres' new padre Hundley helps derail Mets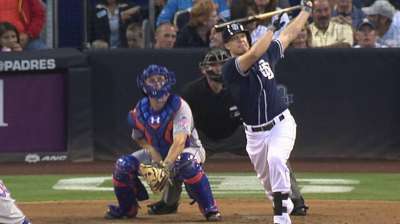 SAN DIEGO -- Two days after the birth of his first child, Nick Hundley was all smiles.
Hundley hit a two-run home run in his first game since becoming a father to lead the Padres to an 8-2 victory over the Mets in the third game of a four-game series at Petco Park on Saturday night.
Hundley was activated from the paternity list prior to the game and celebrated his new baby girl with a shot to left field in the fourth that gave the Padres a 3-1 lead they would not relinquish. The catcher had missed two games since his wife gave birth on Thursday.
"Best moment of my career, by far," Hundley said. "I couldn't stop smiling. Thought about my daughter, got a little emotional on the bench. It was fun."
"That was a big home run, and a nice single in his first at-bat," Padres manager Bud Black said. "He had a smile on his face all day."
Jedd Gyorko helped the Padres pile on with a three-run shot in the eighth inning, his 13th of the season.
The spark on offense was a welcome one for San Diego, which had lost three straight and eight of 10 games. The club had scored over three runs just once during that span.
"We woke up a little bit," Black said. "Right from the start."
A continuing bright spot on offense of late has been outfielder Will Venable, who extended his career-best 14-game hitting streak in the first. Venable beat out an infield single in the first inning to ignite the Padres against Mets starter Jenrry Mejia. Venable scored on a two-out single by Chris Denorfia that gave San Diego its first lead of the series.
"This has been a good second half for Will, no doubt about it," Black said. "He was down in the low .200s, and now he's close to .270. Historically, his second halves have been strong. He's playing very well."
Venable finished the evening 4-for-5, his seventh-career four-hit game and first this season.
Starter Edinson Volquez (9-10), who may be pitching for his spot in the rotation, gave up two runs on seven hits in five innings to earn the victory. Volquez lacked efficiency, needing 100 pitches, but recovered from allowing eight runs in 4 1/3 innings against the Rockies in his last outing.
"I'm just really happy right now that we got the win tonight," Volquez said. "That was nice. We have been looking for a game like that the last couple of nights. Everybody's happy, and everybody is going home happy."
With the Sept. 1 roster expansion on the horizon, Volquez could face competition from some younger starting pitchers in the Padres' system. Volquez, a free agent at the end of the season, entered Saturday's game with the highest ERA among qualified starters in the Majors, but improved upon it slightly, dropping it from 5.80 to 5.72.
"He hung in there," Black said. "He made some pitches when he needed to. That wasn't the most efficient outing, but the end result is giving up two runs, and in this day and age, with the way everyone uses their bullpens, it works."
Volquez's counterpart, Mejia, shut the Padres down after Denorfia's RBI, but he left the game after throwing two just pitches in the fourth inning with soreness in his right elbow. He allowed four hits and struck out five in his three-plus innings.
David Aardsma replaced Mejia with the game tied at 1, no outs and no runners on with a 2-0 count on Logan Forsythe. The Mets reliever allowed four runs on six hits, including Hundley's homer, in two innings as the Padres pulled away.
Dale Thayer, Nick Vincent, Luke Gregerson and Huston Street each contributed scoreless innings out of the bullpen.
Tim Powers is a contributor to MLB.com. This story was not subject to the approval of Major League Baseball or its clubs.