Frazier turning corner after breaking out of slump
Frazier turning corner after breaking out of slump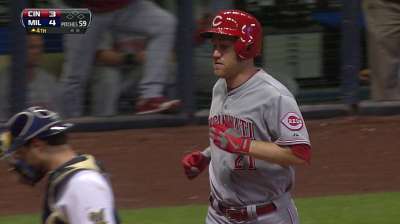 MILWAUKEE -- Forgotten in the shuffle of Friday's hectic ending was Todd Frazier's big day at the plate for the Reds.
Frazier finished 3-for-3 with a home run and four RBIs. He was in line to finish with the game-winning hit, a run-scoring single in the seventh inning, before Jonathan Lucroy's walk-off home run won it for the Brewers in the ninth.
But Frazier was not overly thrilled with his day following the sour ending to the game.
When asked if he would trade his big day for a win, Frazier responded: "Any day of the week."
Frazier was mired in a 3-for-49 slump before he broke out with two hits and two RBIs in Cincinnati's 5-0 win over the Cubs on Wednesday. With three hits and four more RBIs Friday, Reds manager Dusty Baker is optimistic his third baseman is on the upswing.
"It's the RBIs that's the big one," Baker said. "We need RBIs. We have plenty of baserunners on base. We've just got to get somebody to consistently drive them in."
Baker said he moved Frazier to the sixth spot on Friday to shake him out of his recent slump. The Reds -- who had missed Ryan Ludwick's bat in the middle of their order for most of the season -- will count on Frazier to help carry the run-producing load in their order.
Kevin Massoth is an associate reporter for MLB.com. This story was not subject to the approval of Major League Baseball or its clubs.