Smoak cool with not batting in heart of order
Smoak cool with not batting in heart of order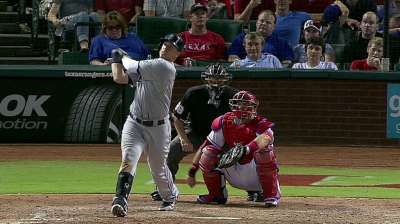 ARLINGTON -- First baseman Justin Smoak has been putting up increasingly good numbers all season, but continues hitting sixth or seventh in the lineup as the Mariners stick with veteran sluggers Kendrys Morales, Raul Ibanez and Michael Morse in the heart of the order.
"It's been working and Smoak has been comfortable," said acting manager Robby Thompson. "He's done well. We did talk about, 'Do we move him up or leave him where he's been and not thinking about maybe I have to do more because I'm moved up the lineup?' So we'll just keep him there where he's done well and where he's comfortable."
Smoak, 26, said he's fine wherever he hits as long as he's producing.
"I've always hit in the middle of the order all my life, so it's not a big deal for me," he said. "Last year I hit in the four-spot a lot. It is what it is. We've got some veteran guys in the middle of the order now. My time will come."
Going into Saturday's game, Smoak had hit .345 with five home runs and 11 RBIs in the last 15 games. He's hit .304 with a .938 OPS since coming off the disabled list on June 18, raising his season average to .273 with 14 home runs and 34 RBIs.
Smoak has always hit well in Arlington, where he began his career before being traded to Seattle in 2010. He said it's fun playing well against the Rangers, though that factor is diminishing with time.
"I've been in Seattle now for two-three years and it's definitely not the same as the first time I came back," he said. "But I know a lot of the guys over there and the staff. It's hot here and I like playing in the heat. There's always a little something extra to go with it [playing his former team]. But the big thing is doing what it takes to win a ballgame and [Friday] night we were able to do that and hopefully we can get it done tonight, too."
Greg Johns is a reporter for MLB.com. Follow him on Twitter @GregJohnsMLB as well as his Mariners Musings blog. This story was not subject to the approval of Major League Baseball or its clubs.