Slow start not dampening Pillar's enthusiasm
Slow start not dampening Pillar's enthusiasm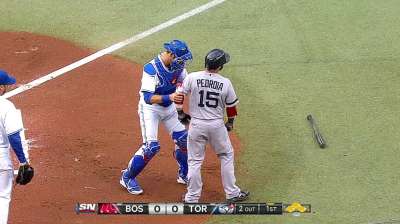 ST. PETERSBURG -- With three Major League games under his belt, Blue Jays rookie outfielder Kevin Pillar was 0-for-10. And having the time of his life.
"Everyone says being in the big leagues is the greatest thing in the world," Pillar said before Saturday's game against the Rays. "And they're right."
In spite of his .000 batting average.
"I'm still confident in my ability; I'm not going to cry over 10 at-bats," said the 24-year-old Pillar, who was promoted to the Major Leagues last week and rated by MLB.com as the organization's No. 16 prospect. "I'm sitting here 0-for-10, but I don't feel like I'm overmatched."
Pillar was not in the lineup Saturday night as Rajai Davis started in left field. So Pillar spent extra time during batting practice talking to Blue Jays hitting coach Chad Mottola.
"I went 0-for-10 in the Minor Leagues lots of times," Pillar said. "Unfortunately, these are my first 10 at-bats in the big leagues. I was talking to some friends back in Buffalo after Friday night's game. They were waiting to climb on the bus for an eight-hour ride to Pawtucket, and I was sitting here in a Major League clubhouse."
Pillar has made "a couple nice plays defensively," said Toronto manager John Gibbons, who described the rookie as a solid ballplayer who was capable of playing all three outfield positions.
Pillar's parents are flying to New York next week to see him play. "It doesn't get much better than that," he said.
A base hit or two would be icing on the cake.
Jim Hawkins is a contributor to MLB.com. This story was not subject to the approval of Major League Baseball or its clubs.