Holland saves two in twin bill for second time in '13
Holland saves two in twin bill for second time in '13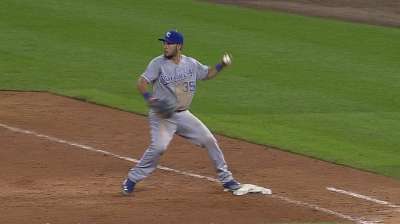 DETROIT -- When Royals closer Greg Holland notched a save in both games of Friday's doubleheader, it was the second time he'd accomplished that this season.
Holland also had saves in both ends of the April 21 day-night doubleheader sweep at Boston. That twin bill was scheduled after the postponement of a game because of the police manhunt for the Boston Marathon bombers.
No pitcher had done a double-double since Dave Veres of the Rockies in 1999.
Another doubleheader distinction for the pitching staff: The one run in the two games on Friday matched the fewest allowed by the Royals since Aug. 13, 1991, in a 5-0, 8-1 sweep at Yankee Stadium. Kevin Appier pitched a three-hit shutout in the opener and Mike Boddicker worked six innings to win the second game. The Yankees' losing pitcher in the second game? Dave Eiland, now the Royals' pitching coach.
The six hits the Tigers managed in Friday's two games were the second fewest allowed by Royals pitchers since Sept. 2, 1977. On that day at Kansas City, Andy Hassler and Doug Bird combined on a four-hit, 3-1 win over Milwaukee. But in the second game, Paul Splittorff beat the Brewers, 3-0, with a one-hitter. Pinch-hitter Charlie Moore singled with two outs in the eighth.
Dick Kaegel is a reporter for MLB.com. This story was not subject to the approval of Major League Baseball or its clubs.