Stinson recalled, fills spot left by Urrutia
Stinson recalled, fills spot left by Urrutia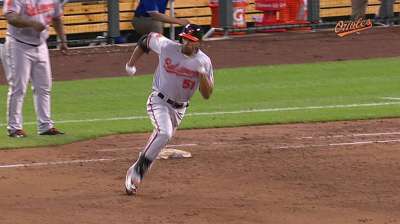 BALTIMORE -- Needing to aid an overworked bullpen, the Orioles recalled right-hander Josh Stinson from Triple-A Norfolk prior to Saturday's game against the Rockies.
Stinson pitched 1 1/3 scoreless innings of relief in Saturday's 8-4 win over the Rockies, striking out one.
The 25-year-old Stinson -- who joined the Major League club for the third time this season -- took the roster spot of designated hitter Henry Urrutia, who was optioned to Norfolk following Friday's game.
"One, we need an arm," Orioles manager Buck Showalter said of the move. "Stinson has had three days off. And as some people astutely noticed, he didn't have a work day [on Friday], so we brought him up. He can give you some length.
"Henry needs some at-bats, it's one of the problems with Interleague Play. I think Henry needs to go back and get where he was. And he will. He's going to be a good hitter. This is going to be good for both parties."
Urrutia had 52 at-bats in 21 games, batting .269 with a triple and two RBIs, and the Cuban outfielder platooned in the DH spot, a role that saw limited action given the team's recently completed three-city West Coast trip against all National League opponents.
"The at-bats have been tough [to find]," Showalter said of Urrutia, who is in his first professional season after signing with the Orioles this spring. "Up here, it's not the instructional league. You are up here trying to win. I think the thing that's impressed me is he's very engaged in the game, he's a fan of the game, he watched the game. He gets the competition. You don't ever have to search for him in a pinch-hitting spot, he very quickly figured out how it works. He's ready. That impressed me."
Although Urrutia had just one extra-base hit, Showalter said he believes the 26-year-old will hit for power in the Major Leagues once he gets some consistent playing time and further acclimated to a new league and country.
"You watch BP, sometimes what will happen at some point, and he's already done it in the Minor Leagues with a little leaky slider, he's going to hit a ball that will make you say, 'Wow,'" Showalter said. "He's got that type of [power]. When you are dealing with that length of arms and that length bat -- same reason why he's got great range with the bat -- he's going to be able to handle the ball in as we go forward. He's 26, but I throw that out. He's almost like a 22-year-old in the Major Leagues, in American professional baseball."
Brittany Ghiroli is a reporter for MLB.com. Read her blog, Britt's Bird Watch, and follow her on Twitter @britt_ghiroli. This story was not subject to the approval of Major League Baseball or its clubs.