Rays' Peralta erratic since long break
Rays' Peralta erratic since long break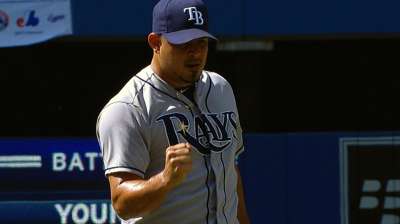 ST. PETERSBURG -- Rays reliever Joel Peralta leads the American League in appearances, precisely the reason manager Joe Maddon gave him more than a week off after the All-Star break.
Combined with the break, Peralta pitched just 3 2/3 innings in 22 days. That may not have been a good thing for the setup man, who has labored through three innings of more than 20 pitches in August.
"When they decided to pitch me less and rest me up, that took a little out of me, and that's why I don't have the same control," Peralta said. "I wasn't pitching as consistently. I believe that has something to do with it."
Peralta entered the eighth inning Friday with a one-run lead but allowed the Blue Jays to tie the game on a single by Brett Lawrie and walk of Josh Thole.
Manager Joe Maddon said he would like Peralta's innings to be "more expedient" but disagreed with the notion that the time off took Peralta out of his routine.
"I just think he's been off a little bit," Maddon said. "I feel very certain he's going to be fine moving forward. I have that much faith in the guy."
Sam Strong is an associate reporter for MLB.com. This story was not subject to the approval of Major League Baseball or its clubs.