Duffy to make next start for Triple-A Omaha
Duffy to make next start for Triple-A Omaha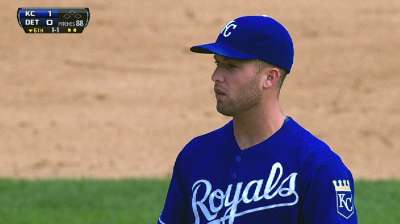 DETROIT -- Left-hander Danny Duffy, who beat the Tigers in the first game of Friday's doubleheader, is scheduled to make his next start for the Triple-A Omaha Storm Chasers.
Duffy was the 26th player allowed added for a doubleheader and was optioned back to the Royals' Triple-A club after Friday's games.
He stayed in Detroit, however, and will do a side session, fly back to Kansas City with the team and then rejoin Omaha. He'll pitch on Wednesday night against New Orleans.
Duffy is expected to rejoin the Royals when rosters are expanded on Sept. 1.
Dick Kaegel is a reporter for MLB.com. This story was not subject to the approval of Major League Baseball or its clubs.