Hosmer puts on power display in twin bill
Hosmer puts on power display in twin bill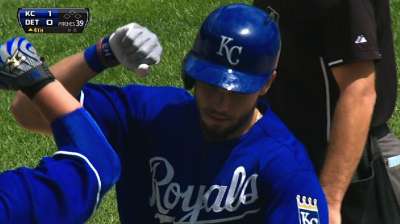 DETROIT -- Eric Hosmer did something on Friday that no Royals hitter had done since 1998. He banged a home run in each game of a doubleheader.
The last Royal to do that was Dean Palmer on Sept. 11, 1998, in a doubleheader split against Seattle at Kauffman Stadium.
Thirteen of Hosmer's team-high 14 homers have come since June 13 at Tampa Bay. He had just one homer in his first 226 at-bats.
"It shows that he's back. All the worries people had," manager Ned Yost said. "It's an adjustment period for these young hitters. They have to go up and they have to go down. I think that the real change for him came when George [Brett] and Pedro [Grifol] came in. What they did was get him into a position where he could start gaining confidence again. And the biggest factor in his game right now is when he steps in that box, he feels like a hitter."
Brett and Grifol joined the Royals as hitting coaches on May 30. Brett has since bowed out, but Grifol continues to tutor Hosmer and the other hitters.
"It's a crazy thing," Yost continued. "With young hitters, they can lose confidence, they can lose focus with a couple of bad at-bats. And the more at-bats you get and the more time you spend in this league, you learn how to deal with that. You learn you're going to get through that. And confidence is a great thing."
Hosmer obviously feels it.
"Pedro and I have been spending time in the cage. We've got a plan and it's really working out for me now and the confidence is really there," he said.
Dick Kaegel is a reporter for MLB.com. This story was not subject to the approval of Major League Baseball or its clubs.