Rays place Scott on disabled list with back spasms
Rays place Scott on disabled list with back spasms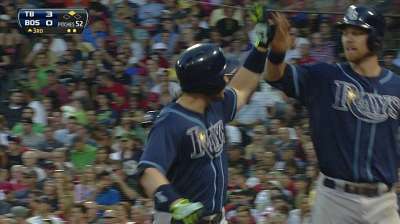 ST. PETERSBURG -- After being held out of the lineup for two days, Rays designated hitter Luke Scott was placed on the 15-day disabled list Saturday with lower back spasms.
"He was a little better today, but I could tell it was still bothering him even sitting down," manager Joe Maddon said. "More than likely, it will take several more days, but I think it will be a minimal stay. We did not want to go with that position being void."
Reliever Brandon Gomes was activated from the disabled list, as his right lat strain is now a thing of the past.
Gomes has not appeared in a game for Tampa Bay since May 7. Prior to the injury, the right-hander had a 5.40 ERA over 11 2/3 innings. More recently, Gomes allowed just two earned runs in a seven-game rehab stint with Triple-A Durham.
"We thought it would be nice to get Gomer back to cover the right-handed side," Maddon said. "He's throwing the ball really well."
With Gomes coming back to the active roster, the Rays moved injured reliever Jesse Crain (right shoulder strain) to the 60-day disabled list. He is not eligible to come off the DL until Aug. 29, but Maddon said he was not targeted to return before then.
The moves leave the Rays with a three-player bench, but Desmond Jennings' likely Monday return (fractured left middle finger) could alleviate the problem.
Sam Strong is an associate reporter for MLB.com. This story was not subject to the approval of Major League Baseball or its clubs.