Gomez improving, may be few days from return
Gomez improving, may be few days from return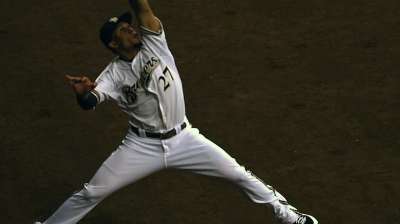 MILWAUKEE -- Center fielder Carlos Gomez reported to the Brewers' athletic training staff that his sprained right knee had improved from Friday to Saturday, according to manager Ron Roenicke, but is still at least a few days away from being able to play.
"Dan [Wright, the Brewers' head athletic trainer] told me today and tomorrow are going to be really important as to if we can go through this thing without [placing Gomez on the disabled list]," Roenicke said. "Maybe he's just out, whatever, four, five, six days. We'll know a lot more today and [Sunday]."
Logan Schafer has been filling in for Gomez, who was injured when he crashed into the wall on a leaping catch in the fourth inning of Thursday's loss to the Reds. An MRI scan on Friday morning confirmed the sprain but showed no significant damage to the knee.
Adam McCalvy is a reporter for MLB.com. Read his blog, Brew Beat, and follow him on Twitter at @AdamMcCalvy. This story was not subject to the approval of Major League Baseball or its clubs.