Crowded rotation a factor for September callups
Crowded rotation a factor for September callups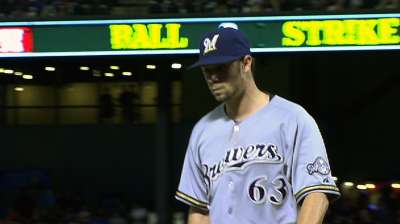 MILWAUKEE -- Facing a sudden surplus of starting pitching, the Brewers may opt to promote top prospect Jimmy Nelson for only one start in September, or none at all.
The problem is not Nelson's stuff or performance -- he has a 3.25 ERA in the Minors this season and 139 strikeouts in 135 2/3 innings -- but the currently crowded Major League rotation. Kyle Lohse, Yovani Gallardo and Wily Peralta are entrenched in the rotation and will pitch through the end of the season. The Brewers feel they need to further evaluate right-hander Marco Estrada, who was terrific last season but hittable and injured for much of 2013, and left-hander Tom Gorzelanny, who has intrigued club officials by pitching better as a starter than his track record. They also want another look at another prospect, Johnny Hellweg, who has dominated the Minor Leagues but struggled badly during a brief stint with the Brewers.
"Say we bring up Hellweg, we're going to a six-man rotation." Brewers manager Ron Roenicke said. "If we bring up Nelson, we're going to a seven-man rotation. That doesn't work."
Roenicke was clear that the Brewers "really like" Nelson, and another club official suggested that since the team will have to add Nelson to the 40-man roster after the season to protect him from the Rule 5 Draft, it may give him one September start to get his feet wet. Final decisions about callups will not be made until much closer to Sept. 1.
Yet another prospect, Tyler Thornburg, has already been moved to long relief. He was available for an inning if needed on Saturday, Roenicke said, and would be in long relief in the days to follow.
Roenicke explained why the organization is choosing to see relatively established pitchers like Estrada and Gorzelanny versus a prospect like Thornburg.
"Estrada, we need to see," Roenicke said. "We liked him last year, but for whatever reason, things changed this year, so we don't know what we have in Estrada. … Gorzelanny, I know with history you may look at his starts and say, 'Well, the numbers weren't that great.' But we're seeing a better pitcher than what those numbers were. We don't know if he's matured, if he has better command; I don't know what the case is. If he's going to be part of that rotation next year, we need to see him."
Regarding Thornburg, Roenicke said, "Yeah, it's important to see him, but [it remains to be seen] whether he ends up as a starter because we need a starter or ends up in the bullpen, which, we've liked him out of the bullpen. I know he's started and had some nice games with us, but I don't think you can forget about what he did at Triple-A [where Thornburg was 0-9 with a 5.79 ERA this season]. That's kind of a concern there."
In his three Major League starts, Thornburg allowed only one earned run in 18 innings.
"The numbers have been good," Roenicke said. "You know, we look at a lot more than just numbers. We look at command, we look at what's happening out there on the field. And that is hard to tell with a guy who starts 3-4 times."
Adam McCalvy is a reporter for MLB.com. Read his blog, Brew Beat, and follow him on Twitter at @AdamMcCalvy. This story was not subject to the approval of Major League Baseball or its clubs.