Gillaspie rests sore right hand, available off bench
Gillaspie rests sore right hand, available off bench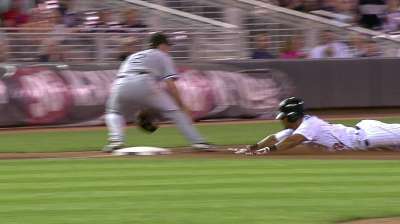 MINNEAPOLIS -- In each of the first two games of their four-game set with the Twins, the White Sox had to pull an infielder early because of nagging injuries. But neither injury has proven costly.
After Gordon Beckham was pulled as a precautionary measure when he tweaked a strain in his right quadriceps Thursday night, Conor Gillaspie took a tough catch at third on a Wilkin Ramirez triple in the seventh inning Friday night. The catch caused Gillaspie's right hand to swell up and he had to exit the game early.
Gillaspie said the ball must have just hit him on the bone or a sensitive spot, causing it to flare up.
"I didn't really notice anything right away," Gillaspie said. "After about a minute, I kind of looked down and noticed my hand was pretty swollen and bruised. It's nothing serious, nothing that's going to keep me down really, at all. Yesterday, it was just so swollen I could hardly hang onto the bat. One of those freak things, I guess."
While Gillaspie was given a day of rest Saturday, his hand already looked better prior to the game and he was available off the bench if needed. He hopes to be back in the lineup Sunday.
"He's still sore," manager Robin Ventura said. "Hopefully, give him another day, unless Gordon gets hurt, then we'll throw him back out there. So kind of keep our fingers crossed."
Kelly Erickson is an associate reporter for MLB.com. This story was not subject to the approval of Major League Baseball or its clubs.