Braves drop marathon affair to Nats in 15th
Braves drop marathon affair to Nats in 15th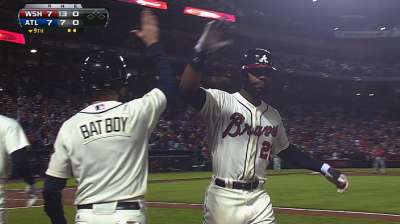 ATLANTA -- Though the National League East standings might look lopsided, this was just the latest of those high-intensity, spirited games that the Braves and Nationals have produced throughout the season.
Braves starter Mike Minor suffered through the shortest start of his career and Nats ace Stephen Strasburg followed by making his own second-inning exit after either suddenly losing command or making multiple retaliatory strikes in response to the Braves hitting Bryce Harper with pitches twice on Friday night and three times over the past two weeks.
Minor's early exit coupled with the game's length forced the unexpected entry of Kris Medlen, who provided a pair of scoreless innings before allowing an Adam LaRoche solo home run to begin the 15th inning. That provided the Nationals with an 8-7 win over the Braves on Saturday night at Turner Field.
"It was just a weird game," Braves manager Fredi Gonzalez said after the five-hour, 29-minute contest. "But I'm really proud of our guys to battle back and battle back."
Down to their last out, Jason Heyward gave the Braves new life when he capped his fifth career multi-homer game with a game-tying, two-run home run off Rafael Soriano with two outs in the ninth inning. But Atlanta's bid to open this series with consecutive extra-inning wins ended after Medlen was forced to enter and ditch the plan for him to start Tuesday's game against the Mets.
After Atlanta's last available reliever, Luis Avilan, tossed two scoreless innings, the Braves turned to Medlen to make his first relief appearance since July 25, 2012. Medlen kept the Nationals scoreless for two innings before LaRoche ended a seven-pitch at-bat by hitting a curveball over the right-field wall.
"It's a situation I've been in before," Medlen said. "I've pitched in extra-inning games before out of the 'pen, so once you experience it once, you want to get in there and win the game and be a part of it."
The Braves had won 18 of their previous 20 games and 11 out of the 14 games they had previously played in the season series against the second-place Nationals, who sit 14 1/2 games back in the NL East. This was the fourth extra-inning game played between these two division rivals and the first won by Washington.
Like Medlen was forced into action, the Nationals had to turn to veteran starter Dan Haren to pitch the 15th inning and notch his first career save.
"We played like the team that was up 15 1/2 games going in," Heyward said. "They played like the division champs of last year."
Heyward got the Braves rolling in the first inning with his second leadoff home run of the week and then provided the clutch ninth-inning home run that allowed the Braves to overcome the early struggles of Minor, who needed 67 pitches to record just five outs.
Minor, who had compiled a 2.23 ERA in his previous seven starts, threw 34 pitches in the first inning, which was highlighted by Wilson Ramos' two-out, two-run single. Jayson Werth ended Minor's forgettable outing with another two-out, two-run single in the second inning.
"We battled back, and we ended up losing, so it doesn't feel good," Minor said. "We're here all night to get a win, but I feel like I should've done something more. But I'm sitting here in the second inning, and I can't do anything. I didn't help out the team at all."
Nobody blinked when Strasburg followed Heyward's first-inning home run by hitting Justin Upton in the rear with his next pitch -- a 97-mph fastball. The Braves were expecting it after Avilan hit Harper with a first-pitch fastball in the right shoulder on Friday. While it might not have been intentional, it certainly did not look good, considering Julio Teheran had drilled Harper three innings after the 20-year-old outfielder took him deep on Aug. 6.
"They're just throwing at us to throw at us," Nationals reliever Craig Stammen said after tossing three scoreless innings to earn Saturday's win. "[Avilan] can say he didn't do it on purpose, but he hit him in the back arm -- which isn't even close when the guy's been throwing strikes all the time. So, I mean, you can say whatever it is, but the game will always police itself. And credit to their hitters: When they got hit, they walked down to first base, they took it like men, and that's kinda how it is, and it should be over now."
But Strasburg continued to provide life to the situation when he opened the bottom of the second by issuing a four-pitch walk to Jordan Schafer. He then immediately uncorked three consecutive wild pitches, including two fastballs that went behind Andrelton Simmons. There was reason to wonder if Strasburg was dealing with a physical ailment, but plate umpire Marvin Hudson had no choice but to hand the right-hander his first career ejection.
"It was just one of those situations from my point of view, it's over with," Gonzalez said. "I don't know if there is something wrong with [Strasburg] physically there. It just didn't look right."
Nationals reliever Tanner Roark allowed one hit over four scoreless innings and produced the first hit of his career -- a two-out fifth-inning double off Anthony Varvaro. The Braves began cutting into a 6-2 deficit on Brian McCann's two-run homer in the sixth off Fernando Abad and Freddie Freeman's eighth-inning solo shot off Drew Storen.
"It's easy to get up for when you got your team scratching and crawling back into the game, and for us to come back from being down that far -- it's a testament to our team," Medlen said.
Mark Bowman is a reporter for MLB.com. This story was not subject to the approval of Major League Baseball or its clubs.