LaRoche's blast caps wild, victorious night for Nats
LaRoche's blast caps wild, victorious night for Nats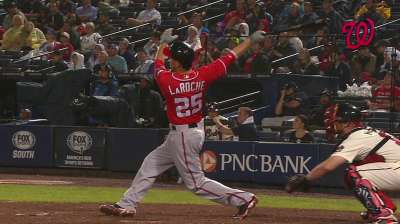 ATLANTA -- Tension filled the air at Turner Field between the Nationals and Braves on Saturday night. Before anyone knew it, right-hander Stephen Strasburg and manager Davey Johnson were ejected from the game long before the Nationals defeated the Braves, 8-7, in 15 innings. The game lasted five hours and 29 minutes, the longest, time-wise, in Nationals history.
The game was tied at 7 in the 15th, when Adam LaRoche led off the inning against right-hander Kris Medlen and hit a 1-2 pitch over the right-field wall for his 18th home run.
"Nothing comes easy against these guys, period," LaRoche said. "We had some games where we had it put away, we have it in the books and they find a way to come back. We grind it out, and it was a full-team effort. We used everybody we had."
The Nationals improved their record to 60-62 and are 8 1/2 games behind the Reds for the second and final National League Wild Card spot.
"I'm proud of those guys in that clubhouse," said acting manager Randy Knorr. "They never stopped playing and it was just great to watch them go out there."
It was a game in which Washington used its entire relief corps. Right-hander Craig Stammen pitched three shutout innings and won his sixth game. Righty Dan Haren picked up the first save of his career. He retired three out of the four hitters he faced in the 15th inning.
After Strasburg was ejected in the second inning, Haren volunteered to pitch in relief. It helped that he had a bullpen session earlier in the day. After the game, clubhouse manager Mike Wallace was seen giving Haren the game ball, which represented the milestone.
"The vibe in the clubhouse was unique. Being the last one in [the clubhouse] was awesome," Haren said. "We needed a game like this, just something to pick our heads up. Come out tomorrow, and hopefully, we'll go from there."
Stammen said he could have pitched a fourth inning, but Knorr remembered that Stammen pitched two innings the previous night.
"I'm not going to hurt [Stammen] trying to get a win," Knorr said. "I'll sacrifice that any day to keep those guys healthy. I wasn't going to let him go back out. I almost changed my mind when Rochey hit the home run."
It didn't take long for things to get heated between the two clubs. On Friday night, Nationals outfielder Bryce Harper was hit twice by a pitch, and three times in all by Braves pitching dating back to Aug. 6, when Julio Teheran plunked Harper one at-bat after Harper had homered off the righty at Nationals Park.
But after allowing a leadoff home run to Jason Heyward on Saturday night, Strasburg hit Justin Upton with a pitch in the backside. Upton smiled and walked to first base, and Heyward was seen clapping his hands at the top of the dugout steps while warnings were issued to both benches.
"They hit Harper quite a bit, so I don't know if somebody said something or he decided to hit him on his own," Knorr said. "If he decided to do it on his own, I'm proud of him."
Strasburg declined to say whether he hit Upton on purpose.
Washington had gone to work on Braves left-hander Mike Minor by scoring two runs in the first inning. Wilson Ramos highlighted the scoring with a single to left, scoring Anthony Rendon and Jayson Werth.
An inning later, Washington had a 4-1 lead, thanks to a two-run single by Werth. Then the fireworks started in the bottom of the second inning. Strasburg threw three wild pitches and was ejected by home-plate umpire Marvin Hudson.
"I don't know why he would try to hit [Andrelton] Simmons," Knorr said. "He was trying to go inside. He just threw one behind him. I think the umpire thought the same thing and the next one went by him and you can't let that happen. Simmons beat us the other way for quite a bit, so [Strasburg] started to go in."
Strasburg acknowledged that he didn't feel right on the mound and was missing his spots in the second inning.
"I can't really explain it. I really didn't feel good out there," he said.
Jordan Schafer led off the inning and drew a walk. After that, Strasburg couldn't throw a strike. With Simmons at the plate, Strasburg threw three consecutive wild pitches, two of them behind Simmons' back. Hudson immediately threw Strasburg and Johnson out of the game after the third wild pitch, which enabled Schafer to score.
"It was just one of those situations, from my point of view, it's over with," Braves manager Fredi Gonzalez said. "I don't know if there is something wrong with [Strasburg] physically there. It just didn't look right."
Johnson protested for a few minutes and then left the game. Right-hander Tanner Roark replaced Strasburg and pitched four shutout innings while striking out six batters.
"That turned out to be really big," Stammen said. "He has done a great job since he has come up. He fits right into that role. He has been doing nothing but throwing strikes and getting people out."
With right-hander Anthony Varvaro on the mound in the fifth inning, Tyler Moore scored all the way from first on a double by Roark. It was Roark's first hit and RBI of his big league career.
An inning later, Werth scored on a single by Ian Desmond to give the Nationals a 6-2 lead.
The Braves made it a two-run game after Brian McCann hit a two-run homer off Fernando Abad in the sixth.
The Nationals were hit with a setback in the ninth inning, when Rafael Soriano blew his second consecutive save by allowing a two-run homer to Heyward. But it was all about pitching the rest of the way. Ian Krol, Stammen and Haren pitched a combined six shutout innings.
"It's all about pitching," Knorr said. "How are we going to match up the pitching to get through the game if it stays the same as it was the whole time? That was the hardest part. Those guys, they grind it through. We beat them, we went after it, didn't give up."
Bill Ladson is a reporter for MLB.com and writes an MLBlog, All Nats All the time. He also could be found on Twitter @WashinNats. This story was not subject to the approval of Major League Baseball or its clubs.