Orioles bust out of slump with huge inning
Orioles bust out of slump with huge inning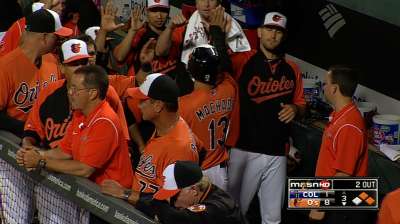 BALTIMORE -- One big inning put the scuffling Orioles back on track.
A Baltimore offense that's been frustratingly erratic finally broke out on Saturday, with a season-high seven-run third inning that fueled an 8-4 series-evening win over Colorado to snap a four-game losing streak. The victory, in front of 31,089 at Camden Yards, featured eight of the Orioles' starting nine reaching base safely in a 10-digit hit night that capitalized on several Rockies miscues.
"Obviously, we needed a little something to kind of jump-start us," second baseman Brian Roberts said of the Orioles' largest single-inning output since July 31, 2012. "And that was big, I think, to use the extra out they gave us to put some runs on the board. Everyone kind of breathed a little sigh of relief and said, 'All right. Now we're ready to go.'"
And with 40 games remaining, the third-place Orioles (66-56) find themselves in the thick of the postseason hunt, trailing the American League East-leading Red Sox by 5 1/2 games and 3 1/2 back of Tampa Bay, which has a hold on the second Wild Card spot.
"This team, we know we're pretty good, we know we have a chance to do something and go to the playoffs," said reliever Tommy Hunter, who pitched a scoreless ninth, of an Orioles team that clinched its first postseason appearance in 15 years last season. "That's the only thing we're looking for, a chance. If you give yourself a chance, you never know what will happen."
The Orioles made good use of their chances against the Rockies, getting some much-needed timely hitting -- coupled with Colorado's fielding blunders -- to chase starter Chad Bettis from the game after eight outs.
The O's sent 12 batters to the plate in the third inning as Chris Davis got things started with a leadoff double and hustled to third on a passed ball. After Adam Jones reached on an infield single, with third baseman Nolan Arenado briefly losing control of the ball, Nick Markakis' blooper to left field -- which popped out of a diving Corey Dickerson's glove -- was just enough to score Davis.
One out later, Steve Pearce's ball went through shortstop Troy Tulowitzki's legs and Brian Roberts made the error hurt, with a two-out, two-run double to right field to make it 5-1.
"There was a play, possibly, at the plate. I wanted to check and see if [Jones at third] was going, possibly peek at him, but by the time I came back to my glove it was by me," Tulowitzki said of Pearce's grounder. "I don't know if it skipped a little bit, but bottom line is, I missed it. No excuses. It was just one of those plays where you take the eye off the ball to check the runner."
Bettis followed that up by walking Nate McLouth -- who scored on Davis' sacrifice fly in the first to give Davis 113 RBIs on the season -- and Manny Machado drove in two more runs with his Major League-leading 43rd double. Machado's extra-base hit chased Bettis, and he was replaced by Adam Ottavino, who walked Davis and allowed the O's eighth run on Jones' RBI single.
"I was real proud, what did we have, seven or eight 90 feet that we got via walk or hit by a pitch?" manager Buck Showalter said of his club's approach. "You can look at that as earning them, or taking advantage of what was given to you. We strung some good at-bats together all the way through the lineup."
Orioles starter Bud Norris was the beneficiary of the offense, which covered for the right-hander's worst start since coming to Baltimore at the Trade Deadline. Norris, who had only one clean inning, worked his way out of several jams to avoid a big inning, and allowed four runs on nine hits and three walks in the 95-pitch outing.
Coming off a relief outing Wednesday in Arizona -- in which he took the loss in the 14th inning -- Norris said pitching out of the 'pen made him a little over-amped, but he was able to settle in. He was also plagued by some back stiffness, which crept up in his last start in San Francisco.
"I started to feel it a little bit," Norris said of the back issue, which has flared up a few times this season. "That long inning didn't help me, but I wasn't going to complain about all the runs. So I'm just going to take care of it and it's not going to hamper me too much. I've got an extra day this week, which will be big. But you are going to have nagging stuff this time of year and you're going to have to fight through it."
Norris exited after giving up a two-out RBI single to Dexter Fowler in the sixth, and slammed his glove down in the home dugout in frustration at not being able to finish the frame. His replacement, lefty Troy Patton, snapped a stretch of 26 consecutive outings without a walk, issuing a free pass to Dickerson to bring on the third arm of the evening, right-hander Josh Stinson.
Stinson, who was recalled from Triple-A Norfolk earlier in the day, struck out Tulowitzki to strand a pair of runners, and pitched a scoreless seventh to keep the Orioles' four-run lead intact. Lefty Brian Matusz and Hunter navigated the final two innings to put the finishing touches on the win.
"You know, we've got a lot of games against our division left, and we just want to stay right where we are and give ourselves a chance these last 40 games," Roberts said of the O's position for the stretch run. "This isn't the time of year to lose 10 in a row, but you're not going to. This isn't also the time of year that a lot of teams go run off and win 10 in a row. It's a matter of just trying to stay consistent, and I think we're going to be fine."
Brittany Ghiroli is a reporter for MLB.com. Read her blog, Britt's Bird Watch, and follow her on Twitter @britt_ghiroli. This story was not subject to the approval of Major League Baseball or its clubs.