Prospect Bettis has short night against Orioles
Prospect Bettis has short night against Orioles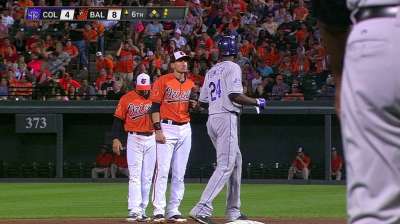 BALTIMORE -- Rookie right-hander Chad Bettis needed help in the third inning on Saturday night, and he got the Orioles' Steve Pearce to hit the ball to the right place for it.
But instead of saving his pitcher, shortstop Troy Tulowitzki allowed the ball to scoot beneath his glove. After the error, the inning deteriorated into a seven-run mess, and the Orioles ended up winning, 8-4, at Camden Yards.
The Rockies (58-66), who had won six of seven coming in, still enter Sunday with hope of winning a road series for the first time since July 7-9 at San Diego, but they felt they let one escape on Saturday. They out-hit the Orioles, 12-10, and left 11 on base while the O's left 12.
Bettis (0-2) wasn't blameless. He gave up seven hits and walked four in only 2 2/3 innings, but six of the eight runs against him were unearned and the defense in the third was bad before the error.
"He struggled with some command tonight, had some walks," Rockies manager Walt Weiss said. "We had [eight] walks as a staff [tying a season high]. It's tough to keep them from scoring when you do that. Chad battled.
"He struggled, threw a lot of pitches, got in some bad counts and had to really work hard. We didn't help him much in that third inning."
Catcher Wilin Rosario had a passed ball after Chris Davis' leadoff double. Adam Jones reached on a single when third baseman Nolan Arenado fielded a ball behind the bag but double-clutched and threw late. In the next at-bat, left fielder Corey Dickerson dove and rolled but ultimately couldn't catch Nick Markakis' RBI single for a 2-1 Orioles lead.
With one out and runners on second and third, Tulowitzki fanned on his backhand attempt on Pearce's bouncer.
"There was a play, possibly, at the plate," said Tulowitzki, who made two other high-degree-of-difficulty plays. "I wanted to check and see if he [the runner at third] was going, possibly peek at him, but by the time I came back to my glove it was by me.
"I don't know if it skipped a little bit, but bottom line is, I missed it. No excuses. It was just one of those plays where you take the eye off the ball to check the runner."
Bettis was making his fourth Major League start since being called up from Double-A Tulsa to make his debut on Aug. 1.
On the heels of holding the Pirates to four hits and two runs in six innings his last start, when he received a no-decision in an eventual Rockies win, Bettis yielded the most walks and hits of his career, while pitching fewer than five innings for the first time.
"It was really embarrassing," said Bettis, a second-round Draft pick in 2010 out of Texas Tech. "I've got a lot to learn. I felt like my stuff today was probably the best it's been. But then also it was moving too much. I've got a lot to learn from this start. That's all I've got to take from it, just move forward."
After Tulowitzki's error, Ryan Flaherty popped into what should have been the final out. Instead, the inning continued. Brian Roberts doubled in two runs, Nate McLouth walked and Manny Machado added another two-run double.
Reliever Adam Ottavino coughed up Jones' RBI single, and the Orioles were on their way to ending their losing streak at four games.
"I've never been a part of a bad seven-run inning, when you're the one scoring it," Roberts said. "Obviously, we needed a little something to kind of jump-start us, and that was big, I think, to use the extra out they gave us to put some runs on the board."
The miscue was part of a rough night for Tulowitzki, who has not fully regained his hitting form since returning in July from a broken rib. Tulowitzki grounded into a first-inning double play -- although a run scored on the play -- and struck out against Josh Stinson to end the sixth after the Rockies had scored twice to cut the Orioles' lead to four. But he also singled and doubled in five at-bats.
Dexter Fowler had two hits and two RBIs.
"We swung the bats all right," Fowler said. "We've got to go away from tonight with that and just fight back tomorrow."
Orioles starter Bud Norris, who held the Rockies to two runs in seven innings in a no-decision while pitching for the Astros on May 27, was less effective, but victorious. This time he held the Rockies to four runs on nine hits and three walks in 5 2/3 innings.
Thomas Harding is a reporter for MLB.com. Read his blog, Hardball in the Rockies, and follow him on Twitter @harding_at_mlb. This story was not subject to the approval of Major League Baseball or its clubs.