Baez may be playing his way into Cubs' plans
Baez may be playing his way into Cubs' plans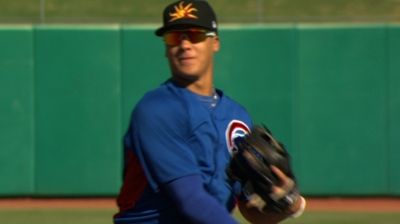 CHICAGO -- Top prospect Javier Baez hit his 31st home run of the season, and 14th with Double-A Tennessee on Friday, a two-run walk-off homer in the ninth. The Cubs have emphasized how they want to take time and let players develop in the Minor Leagues. But could Baez force the issue next spring?
"You don't count any of that out, because we've seen it happen before," Cubs manager Dale Sveum said on Saturday. "When you have those kind of numbers and power, sometimes you do force the issue. It's not in the plans, right now, but we've all seen it happen."
Baez, ranked No. 1 on MLB.com's list of the Cubs' top 20 prospects, was batting .293 with the Smokies. He batted .274 with 17 home runs and 57 RBIs with Class A Daytona before he was promoted to Tennessee on July 6. Sveum has watched video of Baez, who had an impressive spring with the big league team.
"You see that kind of bat speed once in a while," Sveum said. "I've used Gary Sheffield as that kind of [example]. Even watching him now, it looks like [Baez] has toned down a lot of his movement and hand movement, and his leg lift is a lot slower and calmer than it was in Spring Training -- and even early in the Minor League videos I watched. That's what development and adjusting are about, that's what you want to see -- that you're able to handle strike-to-ball sliders.
"I think, in this last week or so, it seems like, listening to the reports, that's what he's been doing," Sveum said of the shortstop. "It sounds like he's laying off a lot of stuff -- [he's] a lot more calmer, a lot more under control."
At Daytona, Baez batted .296 against left-handed pitchers, and .268 against right-handers; at Tennessee, he's batting .429 against left-handers, .231 against right-handers. Sveum would like to see an improvement against right-handers, especially dealing with offspeed pitches.
"[The strike-to-ball slider] is the million-dollar pitch, and it's not about hitting it, it's about learning how to lay off it and recognize it early enough where you don't swing at it," said Sveum. "That's why Minor Leaguers need the 2,000 at-bats [before coming to the big leagues]."
Carrie Muskat is a reporter for MLB.com. She writes a blog, Muskat Ramblings, and you can follow her on Twitter@CarrieMuskat. This story was not subject to the approval of Major League Baseball or its clubs.