Kershaw's gem extends Dodgers' streak of dominance
Kershaw's gem extends Dodgers' streak of dominance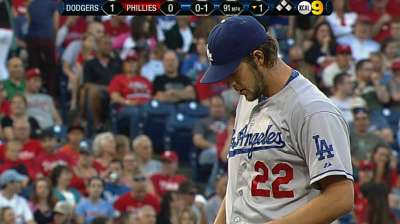 PHILADELPHIA -- Los Angeles has constructed a rotation stacked with aces, the way Philadelphia and San Francisco did to win recent World Series, as Phils interim manager Ryne Sandberg and former Giant Brian Wilson have noticed from very different perspectives.
Clayton Kershaw picked up on Saturday night where Zack Greinke left off on Friday, with the Dodgers blanking the Phillies, 5-0, to tack another win onto the Dodgers' ridiculous roll.
Los Angeles has its first 10-game win streak since 2006, is 25-3 since the All-Star break and has a 42-8 record since June 22. That last mark matches the 1941 Yankees and 1942 Cardinals for the best such stretch since 1900.
"We see what they've got," said Sandberg, unlucky enough to draw the game's hottest team and its hottest starters in his debut series as interim manager. "You see the roll they're on. They've come as advertised and shown why they're on the roll that they're on."
Juan Uribe went 3-for-3 with a three-run homer in the Dodgers' second consecutive shutout, their third in the last seven games and their fifth in the last 14 games.
Uribe, who is quietly having a remarkable comeback year after two tough seasons, was on one of those Giants clubs, as was reliever-in-waiting Wilson.
"Those teams had a one-two punch," said Wilson, who closed out the Giants' 2010 championship. "This team is one, two, three, four and five. From what I've watched the past month, they've just done a phenomenal job pounding the zone and handing the ball to the bullpen."
Kershaw even doubled in a run, providing help for an offense that hit into four double plays and had three runners erased going from second base to third.
Los Angeles is still a season-high 8 1/2 games in front, has won 19 of the last 20 on the road and six straight at Citizens Bank Park, is 15-1 in August and a season-high 22 games above .500, and hasn't lost its last 17 series.
Kershaw retired the first 12 batters, three on strikeouts, with no close calls. But his flirtation with history was ruined when Domonic Brown led off the fifth with a single past diving second baseman Skip Schumaker. Kershaw then picked Brown off first base.
John Mayberry Jr. had the Phils' second hit, a single leading off the sixth, and Casper Wells doubled in the eighth, which Kershaw escaped by striking out pinch-hitter Carlos Ruiz with the tying runs in scoring position.
Kershaw, who struck out eight and allowed just three hits over eight innings, is 12-7 with a 1.80 ERA and 7-2 in his last nine starts, even more dominant than he was when he won the 2011 National League Cy Young Award. He hasn't allowed more than three runs in a start in nearly two months.
"All that stuff is just not that important, honestly," Kershaw said.
And that attitude is why manager Don Mattingly expects Kershaw to just keep firing.
"Kersh is kind of what we're all about," Mattingly said. "What Kersh has done all year to this point really means nothing. He'll be one of the first guys here tomorrow, blow out a workout and be on track to the next one. He doesn't take a hitter off. Every pitch has a purpose. He wants every out he can get. And he keeps turning the page. Everything in the past is over, and it's about today. He's pretty amazing."
Dodgers starters are 15-1 in their last 20 games, with an ERA of 1.73. The staff's 16 shutouts lead the Major Leagues.
Meanwhile, nobody could have predicted that Uribe would be starting at third base after his first two seasons with the Dodgers. He has committed only three errors, has the second-best fielding percentage for NL third basemen and is 13-for-26 in his last eight games, raising his average from .251 to .275.
"I can't give enough credit to Uribe," said Kershaw. "He's playing great, not just offensively but defensively. He gets taken for granted. He's been huge for me."
Until Uribe's ninth-inning blast, the Phillies were close despite their defense committing fielding errors (three) and the Dodgers having squandered chances with double plays (four) and baserunning mistakes (three).
With Davey Lopes out sick, Mattingly put special assistant Jose Vizcaino in the first-base coach's box, but what the Dodgers needed was a second-base coach. That's where all the trouble happened.
In the second inning, Uribe was retired trying to go from first to third on a wild pickoff, although Mattingly had no problem with the attempt. He wasn't as forgiving with Yasiel Puig, who undermined his pair of hits by being thrown out trying to tag from second to third on a shallow fly by Adrian Gonzalez to end the third inning.
"We've talked about the risk-reward, about it needing to be a 100 percent chance, about who's hitting next [in this case Hanley Ramirez ], but with Yasiel we're always moving forward," said Mattingly. "You just don't want one of those costing you a game. You don't want to see the same mistakes over and over."
Ramirez was guilty, too, in the ninth inning, breaking for third then stopping and being tagged out in a rundown before Uribe's homer.
Ken Gurnick is a reporter for MLB.com. This story was not subject to the approval of Major League Baseball or its clubs.