Nolasco named after father's favorite, Monday
Nolasco named after father's favorite, Monday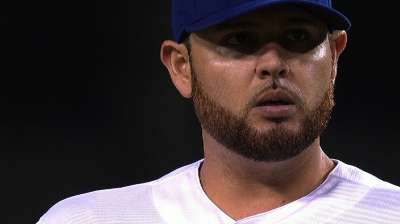 PHILADELPHIA -- Some people are named after relatives. Some are named after rock stars or presidents.
But Carlos Enrique Nolasco goes by the first name "Ricky" because his father named his son after his favorite Dodger, current broadcaster Rick Monday.
"So when I got traded to the Dodgers, my dad got all crazy," said Nolasco, who starts for Los Angeles on Sunday. "It was kind of surreal. And cool. My first day with the team, I got interviewed by Rick, and I sent my dad pictures. He was excited. My dad always talked about Rick Monday."
Nolasco, who grew up an hour from Dodger Stadium in Rialto, has set up a meeting between his father and Monday when the team returns for its next homestand.
Ken Gurnick is a reporter for MLB.com. This story was not subject to the approval of Major League Baseball or its clubs.