Kemp likely out until September
Kemp likely out until September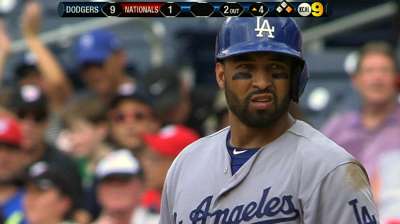 PHILADELPHIA -- Matt Kemp continues to make progress in his recovery from a sprained left ankle, but a return isn't likely until rosters expand on Sept. 1.
"He's doing more and bouncing back," manager Don Mattingly said of Kemp, who has been out since July 22 and has missed 60 of 122 games this year over three stints on the disabled list.
"He's got to be able to run, to cut, to stop and start. He's doing more all the time. [Medical director] Stan [Conte] said he's 75 percent running. He's going in the right direction. I saw him jump rope today. He's doing more stuff. He's at the point with the ankle where it takes a while."
Mattingly added the medical department hasn't talked about a rehab assignment, "so that's still a ways away."
The Minor League season concludes on Sept. 2.
Ken Gurnick is a reporter for MLB.com. This story was not subject to the approval of Major League Baseball or its clubs.