Castillo wrestling with shadows at Wrigley
Castillo wrestling with shadows at Wrigley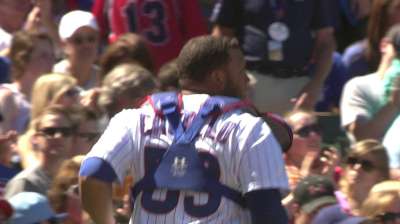 CHICAGO -- The Cubs added more 3:05 p.m. CT starts at home this season, and it's made it tough for catcher Welington Castillo.
Because of the late afternoon start, there are more shadows in the later innings at Wrigley Field -- and it's difficult for the backstop to see.
"It's hard to see the ball," Castillo said on Saturday. "You've just got to focus a little bit more, and [not] get distracted. You lose the baseball a little bit, I think -- not just for me, but all the hitters come to me and say, 'I can't see the ball very good.' The umpire told me that it's not just me, it's everybody. We have to play through that."
Does Castillo focus more on how he frames a pitch, knowing the umpire can't see it that well?
"I don't think you can worry about that," Castillo said. "You just have to worry about catching the ball. If you worry about framing the ball, you [will] miss it, and you'll have a lot of passed balls. I just focus on catching the ball."
The pitcher is often in bright sunshine, while the catcher is literally and physically sitting in the dark.
"It's not easy to hit and catch when the shadow is there," Castillo said. "It's dark, and then really bright. You see the ball early, but when it comes to the plate, it's like you lose it sometimes."
It's a good thing the Cubs don't have a knuckleball pitcher on the staff.
"Oh, my God, I can't imagine that," Castillo said, laughing. "That would be really hard because of the movement on the ball."
Carrie Muskat is a reporter for MLB.com. She writes a blog, Muskat Ramblings, and you can follow her on Twitter@CarrieMuskat. This story was not subject to the approval of Major League Baseball or its clubs.