Phillies blanked; losing streak at four games
Phillies blanked; losing streak at four games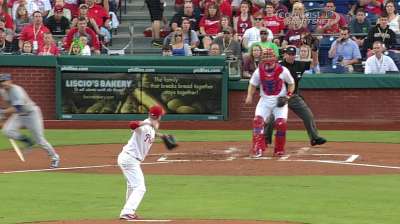 PHILADELPHIA -- Ryne Sandberg has not been given a warm welcome to the Major League managerial ranks.
Sandberg's Phillies were shut out for the second time in as many nights on Saturday, this time by Clayton Kershaw and the Dodgers in a 5-0 defeat. The Phillies had been blanked on Friday behind a strong outing by Zack Greinke in Sandberg's debut as interim manager.
The defeat is the Phillies' 20th in their last 24 games; the Dodgers have improved to 25-3 in the second half.
It's also the 12th time the Phillies have been shut out this season; they have not mustered a run in the 18 innings since Sandberg took the reins.
Asked if he was surprised about that, Sandberg said, "Facing those two guys, I just witnessed it. We see what they've got. You see the roll they're on. They've come as advertised and shown why they're on the roll that they're on."
Filling out lineup cards against Kershaw and Greinke -- both among the National League's top 15 ERA leaders -- has been no easy chore for Sandberg. He did change the order a bit on Saturday, loading it with right-handers against the lefty Kershaw.
But it was to no avail, as Kershaw pitched eight scoreless innings and retired the first 12 batters.
Domonic Brown broke up Kershaw's perfect game with a single in the fifth inning; John Mayberry Jr. and Casper Wells had the only other hits off him.
Sandberg had called into question the team's focus during his introductory news conference before the series started, but he saw enthusiasm on the bench and hustle by the Phillies' limited number of baserunners during this loss.
"When you're facing the best right now, you get a gauge on where you're at," he said. "Domonic Brown, two good quality at-bats. He hung in there against the lefty and got the first hit as the only left-handed hitter in the lineup. He had me thinking a little twice there with a right-handed-stacked lineup. He hit two balls on the nose."
Starter Kyle Kendrick certainly dealt with more baserunners than his counterpart, but he was able to limit the damage, for the most part. The Dodgers scored a run and loaded the bases before Kendrick got an out in the first inning, but the right-hander induced one of the Phillies' four double plays of the game to help him escape the jam without any more runs scoring.
Kendrick went six innings, giving up two runs -- one earned -- on seven hits.
"I battled, gave us a quality outing and a chance to win. That's all you can ask," Kendrick said. "Against a guy like [Kershaw], he's pretty good, obviously. You just try to keep the game close."
The second run against Kendrick came in the fifth inning, when Juan Uribe scored on an RBI double by Kershaw. Uribe tacked on a three-run homer in the ninth against reliever Luis Garcia to put the game out of reach.
With just four baserunners all night, the Phillies' opportunities were limited. They did have a chance to tie the score in the eighth. But with two runners on, Erik Kratz popped out, and after a wild pitch put those runners in scoring position, Kershaw struck out pinch-hitter Carlos Ruiz.
"He doesn't take a hitter off," Dodgers manager Don Mattingly said of his ace. "Every pitch has a purpose. He wants every out he can get. And he keeps turning the page. Everything in the past is over, and it's about today. He's pretty amazing."
Friday was an emotional day for everyone in the organization with the dismissal of Charlie Manuel and promotion of Sandberg, but Saturday was much more about baseball. The Phillies have 40 games left, and the wins are sure to come for Sandberg.
Or some runs, at least.
"I've been around Ryne long enough now to know where he's at. I've got a good feeling with that," Kendrick said. "We just try to move on, that's all you can do."
Stephen Pianovich is an associate reporter for MLB.com. This story was not subject to the approval of Major League Baseball or its clubs.