Pitching, homers again push White Sox past Twins
Pitching, homers again push White Sox past Twins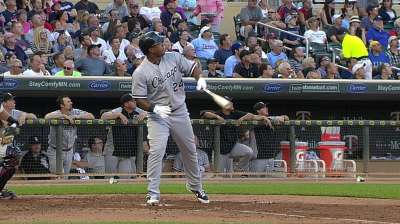 MINNEAPOLIS -- With the music blaring over quiet chatter throughout the White Sox clubhouse, there was a general sense of serene happiness Saturday night.
Led by ace Chris Sale -- who admittedly didn't have the smoothest outing -- the White Sox used a pair of multi-run homers and a little help from the clear, evening sky, to prove once again they could win on the road with an 8-5 win at Target Field just one night after breaking their 10-game road skid against the Twins.
"Anytime you come back with a 'W' you always feel good about it," Sale said. "Obviously, there's some things I'd want to change, especially in that third inning, but at the end of the day, a win's a win. The music's playing. People are smiling. We're good to go."
The music continued to flow through the clubhouse for the second consecutive night thanks to a lucky Adam Dunn fly ball in the eighth. While Josh Willingham looked like he had the read on the ball, he lost it in the sky and lights and it dropped well to his right, allowing Alejandro De Aza, who was pegged with a pitch from reliever Josh Roenicke to start the inning, to score for a 6-3 lead.
De Aza all but iced the win an inning later with a two-run shot to right off Casey Fien. Addison Reed stepped in for his 30th save of the season, retiring the final three batters.
"They hit some balls hard, we had some homers, kind of made some catch-up, get-back-into-it plays and then put it away," White Sox manager Robin Ventura said. "It was a good win all the way around."
Despite a rocky third inning in which Sale gave up four straight hits with two outs, the southpaw did what he could to give his team a chance to win, limiting the Twins to just three runs on nine hits and a walk through seven innings. He also struck out eight.
After facing the minimum through two innings, Sale gave up his first hit of the game to No. 9 hitter Pedro Florimon. After another hit by Brian Dozier, Sale hung a pitch to Joe Mauer, who blasted it to right, missing a home run by inches. The hit went down for a two-run double and was followed by an RBI double from Willingham off the bullpen fence that De Aza misjudged over his shoulder.
"Making some mistakes to some great hitters," Sale said of the inning. "I hung a breaking ball to Mauer and he's going to do that. Try to sneak a fastball by Willingham and maybe pay for it. Just try to breathe after that. Try to forget about it and get back out."
The Twins held a 3-1 lead, but the White Sox didn't trail for long.
With two outs in the fourth, Dunn roped a double down the right-field line. Avisail Garcia followed with another double, except along the left-field line, scoring Dunn. With Garcia on second and Jeff Keppinger on first after he was issued a walk, Dayan Viciedo lifted a three-run homer deep into the left-field bleachers, putting the White Sox ahead, 5-3.
"Tank hit that big home run for us," Sale said. "For me, anyways, that's a big confidence builder. You going out there and you have a three-run inning like that and your guys come back in and score four -- that shows that we're still fighting. So I go out there and keep fighting for them as well."
The home run not only marked Viciedo's 10th of the season, but the first given up by Twins rookie starter Andrew Albers. Through his two previous starts, the lefty had thrown 17 1/3 shutout innings.
After De Aza led off the game with a hit for the third time this series, and moved to third on an Alexei Ramirez hit that was lost in the sun, falling for a double, he scored on a Paul Konerko groundout, ending the rookie's scoreless run. Albers left the game after seven innings, allowing five runs on eight hits, a walk and three strikeouts.
"Early on, I was struggling with my command, falling behind a lot of hitters," Albers said. "I just didn't have a lot of rhythm. The first three, four hitters I had a tough time hitting the outside corner. I had a lot of three-ball counts tonight. That makes for a tough day. Luckily, after the home run I was able to settle down a little bit and find a little bit of rhythm."
The Twins did pull within one late in the game, picking on the White Sox bullpen. After his gaffe in the top part of the inning, Willingham made up for it with a double to the right-field corner. Ryan Doumit followed with a two-run blast to right off reliever Nate Jones, making it 6-5.
The White Sox worked out of similar jams for three straight middle innings, stranding a runner on second in the fifth, sixth and seventh.
In the fifth, the White Sox ended the threat when Gordon Beckham flipped a Mauer grounder from his glove to Ramirez, who fired to Konerko at first for a double play.
"That was probably a game-saver right there," Sale said. "There was a guy on first and second, one out. For him to even get a glove on that is amazing enough but to be able to flip it up and get a double play out of it -- that's a pitcher's best friend. Very grateful for that."
Kelly Erickson is an associate reporter for MLB.com. This story was not subject to the approval of Major League Baseball or its clubs.