After Locke labors, Bucs can't contain D-backs
After Locke labors, Bucs can't contain D-backs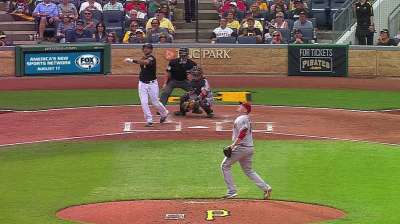 PITTSBURGH -- It doesn't matter what you call it. The law of averages. Breaking even. Regression, the current pet buzzword. Years ago, Satchel Paige warned against it by admonishing, "Don't look back, for something may be gaining on you."
Whatever, nothing in sports is more respected -- or, feared -- than the idea that hot athletes "have one coming."
As torrid as they had been, starter Jeff Locke and Pirates relievers had several coming. And they all arrived on Saturday, in a 15-5 defeat to the Arizona Diamondbacks at PNC Park.
"A tough day all around, and obviously I started it off," said Locke, who gave up eight runs in 2 2/3 innings.
"Today clearly was not our day. That's why we got another one [Sunday]," said Justin Wilson, who had been one of three relievers to work flawlessly before two others were jumped for the final seven runs.
Payback by the fates?
Locke had allowed three runs or fewer in 19 of his past 20 starts.
The bullpen Shark Tank had allowed three runs in its last 10 games, a span of 38 innings.
"Our pitching staff has been fantastic all season. Everybody," Locke said. "We've been thrown a little adversity of late. Today was a little reality check, an eye-opener for me, absolutely."
It may have also opened manager Clint Hurdle's eye to the possible benefit of having Locke skip some turns.
"I'll talk to [general manager Neal Huntington] and we'll talk to Jeff, see how he feels and get back to you on that," Hurdle told reporters after the game.
Briefly, Locke appeared to have set the Bucs up for perhaps their best act of a comeback summer. They quickly took a big bite out of that 8-0 deficit to whip up the sellout crowd of 37,982 fans.
But hopes of a storied Pittsburgh comeback -- erasing the eight-run deficit would have tied the club record -- were dashed as the D-backs stepped back on the pedal for seven runs in the last two innings after the Bucs had clawed back to within 8-5.
Those hopes had been raised in the bottom of the third -- the D-backs had just run off Locke with six runs in the top of the frame -- after Trevor Cahill, the Arizona right-hander who ended a seven-week DL stint to make the start, retired the first two batters. Within the next eight pitches, the Pirates halved that 8-0 lead: Starling Marte homered, Neil Walker and Andrew McCutchen singled and Pedro Alvarez went really deep.
"When we had the big-run inning, I'm thinking, 'We're going to win this game still.' Because that's what we've done all season," Locke said.
Alvarez's 432-foot drive to the rear of the right-field stands was his 30th of the season, matching his total of 2012 and making him the first third baseman in Pirates history to reach that number in two seasons, not just consecutive.
Alvarez's homer had also given him the National League lead -- briefly, as it turned out. Six innings later, Paul Goldschmidt hit his own 30th, a three-run blow off Bryan Morris in the ninth.
Cahill had to sweat out the possibility of having an 8-0 lead and not surviving the five innings necessary to qualify for a win. He teetered through the five -- never retiring the Pirates in order -- allowing seven hits and four runs with a walk and four strikeouts for his first victory since May 17, six weeks before he went on the DL with the hip injury.
After Cahill's departure, Pittsburgh took another step in the sixth, as Russell Martin doubled off reliever Will Harris and scored on Jose Tabata's single, cutting it to 8-5.
But that's where it stopped, short of matching the greatest comeback in club history. Four times the Pirates had erased eight run deficits to win -- in 1909, 1946, 1979 and on July 15, 1994, when they came back to beat Houston, 11-8.
Arizona's 15 runs and 20 hits were both season highs off Pirates pitching.
"People are going to look at the score and think it was a blowout, but it was far from that," said Arizona manager Kirk Gibson. "That's a good team over there and they kept coming at us. We got on Locke pretty good and their had used their bullpen so much in the St. Louis series [16 innings], they had to leave him in longer."
In the eighth, the D-backs began distancing themselves on Jason Kubel's two-run pinch-hit single and Wil Nieves' sacrifice fly. Those three runs were charged to Jeanmar Gomez.
Locke's third-inning nightmare kicked in after he'd retired the first two men.
The next seven splashed all over PNC Park, from Didi Gregorius's RBI double to Cahill's two-run single to Martin Prado's three-run homer. Locke couldn't finish that inning, finally making way for Jared Hughes to do the honors.
"All my pitches," Locke said in response to whether he could isolate his problem. "You'd like to be sharper and finer, and feel great every time out. The reality is, you don't."
"He was short on stuff and command. That's a tough combination," Hurdle said.
The left-hander posted several career highs (10 hits and eight runs allowed), as well as one career low (2 2/3 innings pitched).
Before falling into a pit, Locke was already in a hole. Two walks sandwiched around a Goldschmidt single brought up Nieves with the bases loaded and two outs in the first. This created an interesting battle of forces: Nieves led the D-backs with a .345 average, but also dragged a career mark of .136 (3-for-22) with the bases loaded into the batter's box.
Current events won out, sort of: Fooled by Locke's pitch, Nieves managed to push it between first baseman Garrett Jones and the foul line into the right-field corner for a two-run double that put him over the 100-RBI mark ... for his career, which began in 2002.
As the rest of the day unfolded, Nieves turned out to be not the only player to observe a benchmark. But he will be the only one who looks back on it fondly.
Tom Singer is a reporter for MLB.com and writes an MLBlog Change for a Nickel. He can also be found on Twitter @Tom_Singer. This story was not subject to the approval of Major League Baseball or its clubs.