Lackey limits Yankees as bats best Kuroda
Lackey limits Yankees as bats best Kuroda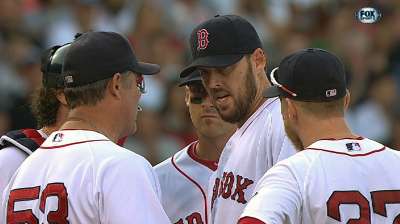 BOSTON -- There remains just one team in the Majors that hasn't endured a four-game losing streak this season -- the Boston Red Sox.
John Lackey made sure of that on Saturday afternoon at Fenway Park when he put together his best performance in a few weeks, snapping Boston's three-game skid with a 6-1 victory over the Yankees.
It was a different style deployed by Lackey in this one, as 15 of his 20 outs came via the ground ball.
"I mean, they're too good of hitters to go one way about it," said Lackey. "You've got to make a lot of good pitches. You've got to vary it up. Guys behind me played really good and made some nice plays for me."
Over 6 2/3 innings, Lackey scattered six hits and a run, walking three and striking out a season-low of one. He threw 103 pitches, 65 for strikes.
When he walked off the mound, Lackey got a huge ovation from the Fenway faithful.
"It's nice, for sure," said Lackey. "It was a nice ovation, for sure, especially the guys in the dugout that were in the dugout waiting for me."
Lackey, who has been plagued by a lack of run support for most of the season, didn't run into that problem in this one. With the win, Lackey is 8-10 with a 3.22 ERA. It was his first victory since July 12.
"Yeah, I can't do a whole lot about that," Lackey said. "I've just got to keep trying to throw up zeros and give the team a chance to win every time I go out there, and the record's kind of out of my hands."
What matters most for Lackey is the team's record, which is now 73-52.
Like any starting pitcher, Lackey loves to end a team losing streak.
The Red Sox have done a nice job minimizing those all year.
The key to that trait?
"Depth of the roster, consistent starting pitching in general, and in some of those games where we needed to dig a little deeper to come back from a potential loss, we've been able to do it," said Red Sox manager John Farrell. "Again, I think the reason for that is just the overall depth of this team. When guys need a down day, we can go to a quality player. [Mike] Carp again today with a couple of big hits as one example throughout the course of the year. To me, it's been their willingness to prepare and the depth of the roster."
The Sox put together a rare strong showing against Hiroki Kuroda, who came in with a 2.33 ERA.
The offense had big performances from Jacoby Ellsbury (three hits) and David Ortiz (homer, double). Mike Carp, Daniel Nava, Shane Victorino and Will Middlebrooks added multi-hit performances.
"The guys did great swinging the bats against a guy that's having a great year," said Lackey.
The Red Sox rallied against Kuroda in the fourth. Ortiz started it by rifling a ground-rule double to right. Carp's single put runners at the corners with nobody out. After a strikeout by Nava, Stephen Drew hit a fielder's choice grounder that Lyle Overbay threw away for an error. Ortiz scored on the play for the first run of the game.
"I just didn't finish the throw. It's frustrating, because I feel like if I get a good grip on the ball, I can throw the ball," said Overbay. "I just didn't finish the throw. It ended up costing us. Those are big situations. Kuroda did a great job of getting outs and keeping us in the game. I hate when it ends up like that and we get into situations that we didn't need to -- just get an out even if we didn't get the double play. It's an easy double play, should've been."
Carp and Drew then executed a double steal. Middlebrooks and Ellsbury came through with two-out RBI singles to make it a 3-0 game.
Lackey took a shutout into the fifth, even if he wasn't overpowering.
"The one impressive thing about John is on days where he might not have his best power in terms of velocity, he still has the ability to throw downhill and put the ball on the ground, as today," said Farrell. "With [third-base coach Brian Butterfield's] work on positioning, we're able to take some of those hard hits away and close up some lanes. We know John's going to pitch to contact, and we're probably going to get pitches in intended areas with overall command. That's part of the positioning going into consistent defense behind him."
The Yankees finally put something together in the fifth. Overbay led off with a single and Chris Stewart followed with a ground-rule double. Ichiro Suzuki got his team on the board with a groundout. Overall, Lackey did a nice job in that frame of minimizing the damage.
"He set the tone for us, in particular in the fifth inning," said Farrell. "After we scored the three runs, he's in the second-and-third situation with no outs, and really minimized the damage. As best and briefly described, he set the tone for us on the mound today, which we needed."
It was one of those rare days in which Kuroda didn't seem to have his best stuff and the Red Sox capitalized. Nava led off the sixth with a double off the Green Monster. Jarrod Saltalamacchia smoked an RBI single. The best swing of the inning came from Ellsbury, who hit a rocket double off the wall in right. Robinson Cano's relay throw home was way off the mark as Saltalamacchia scored.
In the seventh, Ortiz mauled a solo homer to center -- No. 425 in his career.
Ian Browne is a reporter for MLB.com. Read his blog, Brownie Points, and follow him on Twitter @IanMBrowne. This story was not subject to the approval of Major League Baseball or its clubs.