Kuroda comes up short as Lackey limits bats
Kuroda comes up short as Lackey limits bats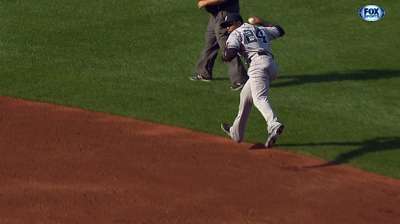 BOSTON -- Hiroki Kuroda's impressive run at the front of the Yankees' rotation hit a speed bump on Saturday, as the right-hander surrendered a career-high 11 hits in a 6-1 loss to the Red Sox at Fenway Park.
Kuroda took a loss for just the second time in his last eight starts dating back to July 7, but the Yankees had plenty of other places to point the finger, as they committed two errors and were hurt by a couple of questionable calls on the basepaths.
"We can't dig ourselves in a hole for no reason," said Yankees first baseman Lyle Overbay, who committed a key throwing error that opened the door for a three-run fourth inning. "This is playoff atmosphere. This is how we've got to play. We've got to be sound, and those are things that we can't have."
Boston's offense was paced by leadoff hitter Jacoby Ellsbury, who stroked three hits and drove in a pair of runs as the Red Sox won for just the third time in nine games, reclaiming an 8 1/2-game lead in the American League East over the Yankees.
"This has been a team that's come in every day with a very consistent approach, a positive attitude, the same trash-talking that happens every day was there this morning," Red Sox manager John Farrell said. "It was business as usual."
The Yankees managed a run on six hits over 6 2/3 innings facing Red Sox starter John Lackey, who made headlines earlier in the week when he told the Boston Globe that he had issues with Alex Rodriguez being in the Yankees lineup while he appeals his 211-game suspension.
"I've got a problem with it, you bet I do," Lackey told the newspaper.
Lackey never came close to buzzing Rodriguez, who went 0-for-3 with a walk, but he had New York's hitters pounding the ball into the ground with regularity, walking three and striking out one in a sharp outing.
New York had the bases loaded with two outs against Lackey in the second inning but were unable to score. They also had runners at second and third with none out in the fifth, but Lackey held them to a run, coming home on Ichiro Suzuki's RBI groundout.
"Lackey was outstanding today," Rodriguez said. "He threw the ball very well. He's having a big year for them."
Boston started a rally in the fourth inning, as David Ortiz slugged a ground-rule double to right field and Mike Carp followed with a single, placing runners at the corners with none out.
After a strikeout, Kuroda got Stephen Drew to hit a routine ground ball to Overbay at first base that could have been an inning-ending double play, but Overbay's throw to second base sailed wide, opening the door for a three-run frame.
"I just didn't finish the throw. It's frustrating, because I feel like if I get a good grip on the ball, I can throw the ball," Overbay said. "I just didn't finish the throw. It ended up costing us."
The inning continued as Yankees catcher Chris Stewart appeared to throw out Carp stealing third, but Carp was called safe by Bill Welke, who told Girardi that Rodriguez's tag had been high and Carp beat it. Will Middlebrooks and Ellsbury then punched RBI singles in the inning.
"That fourth inning, I wish I could take that back," Kuroda said. "I feel bad about it. ... With the runners on, I wanted to minimize the damage. But I couldn't do that."
Kuroda put the blame on himself, saying that he had "a bad outing," and Girardi thought the fourth inning had changed the tone for Kuroda.
"I still think he still made good pitches and he could have got out of the inning," Girardi said. "I think that inning took a toll on him as the game went on, and he ended up having to throw extra pitches. In a game like that, that's a big deal. It changes the complexion of the game."
The Yanks left Fenway with one other call to lament, as Alfonso Soriano was called out stealing second in the fourth by Fieldin Culbreth, when replays suggested otherwise.
Soriano had two hits as his hot streak continued, improving to 15-for-22 (.682) over his last five games, but he was also thrown out on the bases twice, as he got doubled off second base in the second inning.
Jarrod Saltalamacchia and Ellsbury stroked run-scoring hits in the sixth to chase Kuroda. Big Papi belted a long home run into the covered seats beyond the center-field wall off Adam Warren in the seventh.
The Yankees will eye a series victory when they send CC Sabathia to the mound on Sunday, knowing that each loss seems to count a bit more given their situation.
"They are big losses, in a sense, but you can't make too much of one game," Girardi said. "You have to go out and win a series tomorrow. That's the bottom line. You have to win the series and we have an opportunity to do that."
Bryan Hoch is a reporter for MLB.com. Follow him on Twitter @bryanhoch and read his MLBlog, Bombers Beat. This story was not subject to the approval of Major League Baseball or its clubs.