Castro's mental lapse proves costly in loss to Cards
Castro's mental lapse proves costly in loss to Cards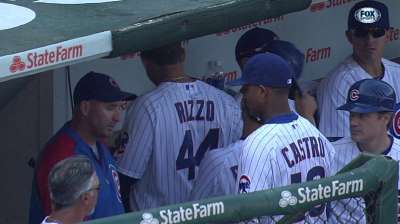 CHICAGO -- Starlin Castro's mental gaffe on Saturday cost the Cubs a run and resulted in the shortstop being benched. Whether he'll be in the lineup on Sunday was something manager Dale Sveum needed to think about.
Castro's brain cramp on a popup in the fifth allowed the Cardinals to score, as St. Louis posted a 4-0 victory over the Cubs in front of 41,981 at Wrigley Field.
The Cardinals led, 1-0, when they loaded the bases with one out in the fifth against Travis Wood. Matt Carpenter hit a popup to Castro in shallow left, and third-base umpire Ron Kulpa invoked the infield-fly rule. Castro caught the ball, and seemed unaware of Jon Jay -- the runner at third -- who broke for home and scored on the sacrifice fly. Castro eventually did throw home, but it was too late.
"I knew the outs and everything, but I put my head down and made a mental mistake," Castro said. "I don't want to make any excuses for that. It's my mistake, and that's why I paid for that -- that's why I came out of the game. I feel really, really bad that it happened, especially with Woody pitching good.
"I have to pay for that. That's a mistake that can't happen in the game."
Left fielder Junior Lake was yelling at Castro to, "be careful." Give Jay credit for heads-up baserunning.
"I know the wind can be tricky here, and I saw him make the catch, put his head down, and that's when I took off," Jay said. "I took a couple steps and then decided to take a gamble -- and it worked out."
Wood said he wasn't rattled by the play.
"Things are going to happen behind you that you have no control over, regardless of whether someone makes an error or anything -- just like they have no control if I walk somebody or [the other team gets] a hit off me," Wood said. "It's kind of just roll with the punches."
Sveum met Castro in the dugout as soon as the inning ended and told the shortstop he was done for the day. Castro was replaced defensively in the sixth, as Donnie Murphy moved from third to shortstop and Cody Ransom entered at third. Castro watched the rest of the game from the dugout.
"The situation is, obviously, we had a big blunder there and he lost track of what was going on for whatever reason -- and I pulled him out of the game," said Sveum, who had never penalized a player like that in his managerial career.
Did Castro offer an explanation?
"There is no explanation," Sveum said. "A guy caught a ball, a popup, and the [baserunner] should've stayed at third base. That's the bottom line."
As to whether Castro will play on Sunday in the series finale, Sveum said, "I haven't gotten that far yet."
It's been a tough season for Castro, a two-time All-Star, who began the year with a .297 career batting average in the big leagues. He is hitting .244 this year, and is 0-for-16 in his last five games -- including two at-bats on Saturday.
"It's bad," Castro said, when asked to describe his season. "It's an unbelievable year, especially for me. I've never had a year like that. I feel really bad, especially with that mistake. Today, and my struggles at home plate [hitting], it's really tough. I don't put my head down. I know I can be good and finish strong."
Did he expect to start on Sunday?
"Yeah, for sure," Castro said. "I want to be there, and give 100 percent. I know that kind of thing can't happen again."
"There are only so many meetings, and so many things you can say," Sveum said. "When you've played this much baseball, it gets to the point where you have to do it yourself."
It also wasn't the first time Castro has been caught napping. In a nationally televised game in August 2011, the shortstop had his back to the action during a pitch, and was criticized on the air by ESPN broadcaster Bobby Valentine.
The Cubs can only hope Castro eliminates the mistakes. The team gave him a seven-year, $60 million contract in August 2012.
"[Castro has] played in the big leagues long enough, and we've had our discussions," said Sveum. "There comes a point in time when you have to cross that bridge and get to the next level. He feels as bad as anybody, he knows what happened, and he feels awful right now."
In an odd twist, Saturday marked the 25th straight game Castro has not made an error, a career high.
"This guy has had 200-plus hits [in a season] in the big leagues, and he's getting better as a shortstop," Sveum said. "Yeah, we have mental lapses like today, but there's a lot of good things going on. Defensively, he's getting better and these things happen a lot less. Today will be magnified. It's what it was. Sometimes you hit rock bottom, and you don't make these [mistakes] anymore because you stay focused for 300 pitches in a game."
Castro said his struggles at the plate were not distracting him on the field.
"I don't take my at-bats to the field," said Castro. "That kind of thing that happened today is really tough. It's a mental mistake. I'm working hard every day. I don't put my head down, I keep positive. We have a month and a half left, and I have to get out of my struggles at home plate and concentrate more at home plate."
Back to the game: Yadier Molina hit a two-run homer in the sixth, and Carlos Beltran added an RBI double for the Cardinals, who took an 8-7 lead in the season series with the win. Joe Kelly overpowered the Cubs, holding them to four hits over six innings. Chicago now has been shut out in five of its last seven games at home.
"I wish I could [explain it]," Sveum said of the lack of offense.
It's hard to explain Castro's inability to stay focused.
"It's a day I'll never forget in my life," said Castro.
Carrie Muskat is a reporter for MLB.com. She writes a blog, Muskat Ramblings, and you can follow her on Twitter@CarrieMuskat. This story was not subject to the approval of Major League Baseball or its clubs.