Kelly, Cardinals blank Cubs at Wrigley
Kelly, Cardinals blank Cubs at Wrigley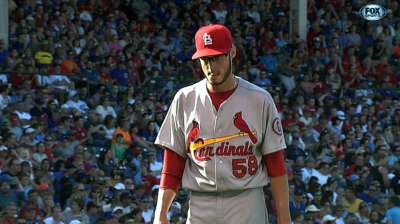 CHICAGO -- Having already stopped separate losing streaks at four and seven games over the last three weeks, Joe Kelly halted the potential for another extended skid on Saturday.
With six scoreless innings, Kelly helped the Cardinals bury Friday's defeat with a 4-0, series-evening win over the Cubs. A two-run homer by catcher Yadier Molina and heads-up baserunning by Jon Jay punctuated the victory in front of 41,981 fans at Wrigley Field.
"We needed to win," said Molina, who went 2-for-4 in his second game since coming off the disabled list. "Right now, [Kelly] is not taking anything for granted, and he's going after hitters. He did a great job for us."
Kelly has emerged as the Cardinals' most consistent starter over a 23-game stretch in which the club has limped to an 8-15 record. Coining him the team's current stopper would seem plenty appropriate, too. That's because half of those eight wins have been garnered by Kelly; each has followed a Cardinals' loss. Kelly's only winless start since the All-Star break came when he gave the Cardinals 6 1/3 scoreless innings against Atlanta on July 27.
Since moving Kelly from the bullpen to the rotation in July, the Cardinals have won six of the right-hander's seven starts. He has a 2.23 ERA during that span. Kelly has not been scored upon in three of his last five outings -- and he has made those three scoreless appearances (each lasting at least six innings) since it was last done by anyone else in the rotation.
"We didn't know necessarily what we were going to do, and he's stepped up and taken advantage of it and been one of those guys who, you can tell, he can't wait to get the ball," manager Mike Matheny said. "When he goes out there with that kind of confidence, it just transfers over to everybody else. And he's getting better."
His continued growth is explained by improved fastball location and less hesitancy to throw offspeed pitches in big spots.
Kelly opened the afternoon by matching Cubs All-Star starter Travis Wood with three scoreless innings, though it took Kelly 34 pitches to work around problems in the third. Two infield singles and a walk loaded the bases for the heart of Chicago's lineup. Kelly responded by striking out Anthony Rizzo on a 95-mph fastball and getting Nate Schierholtz to ground out.
"That was really critical," said Kelly. "Those types of situations, I'm just trying to bear down as much as I can and get a grounder somewhere or a strikeout. I was just trying to battle right here."
His own offense -- which went hitless despite putting several hard-hit balls in play the first time through the order -- then got to work.
Consecutive doubles by Matt Carpenter and Carlos Beltran to begin the fourth gave the Cardinals their first run of the series. St. Louis tacked on another in the fifth, while taking advantage of Cubs shortstop Starlin Castro's mental lapse.
Jay's one-out double and a walk to Pete Kozma brought Kelly up to bunt both over. He did even better, reaching himself when Wood's 0-2 pitch hit him on the leg. Carpenter, a career .727 hitter with 27 RBIs in bases-loaded situations, popped a pitch up to shallow left field. Castro gave chase and, after waving off outfielder Junior Lake, made the catch as the infield fly rule was invoked.
As Castro gloved the ball, Jay started toward home. When he saw Castro put his head down instead of getting the ball back to the infield, Jay committed. He slid home safely, just ahead of the throw.
"I took a couple steps and then decided to take a gamble, and it worked out," Jay said. "I'm just trying to anticipate in that situation. I'm happy it worked out."
"Jon Jay did a good job staying with the play, just seeing what the infielder was going to do," added third-base coach Jose Oquendo. "Once [Castro] put his head down, he took off."
Cubs manager Dale Sveum met Castro at the dugout steps at the end of the inning and replaced him in the field in the sixth.
"I knew the outs and everything, but I put my head down and made a mental mistake," Castro said afterward. "I don't want to make any excuses for that. It's my mistake, and that's why I paid for that -- that's why I came out of the game. I feel really, really bad that it happened, especially with Woody pitching good."
Molina knocked Wood from the game when he drove a two-run homer into the left-center-field seats the next inning. It was Molina's first hit in eight at-bats since coming off the disabled list. Molina, who entered the day second in the National League batting race, finished with his 37th multi-hit game.
The All-Star catcher had earlier keyed a critical forceout, too, by fielding a backspinning bunt to keep the third inning from compounding on Kelly.
"It's just good to have him in there," Matheny said. "He's going to be an impact [player] for our club."
Seth Maness, Randy Choate and Michael Wacha pitched in relief to preserve the Cardinals' 11th shutout of the season. Wacha, entering after Choate allowed a leadoff single in the ninth, struck out the side. Of the nine batters he's now faced in three innings since moving to the 'pen, Wacha has seven strikeouts.
"His fastball is so good and his changeup is amazing," Molina said. "We really need help over there, because we've been using the bullpen a lot lately. With a fresh arm, a young arm, a good arm like him, it helps."
Deploying Wacha to pitch the ninth allowed Matheny to get a second day of rest for Trevor Rosenthal and Edward Mujica. Both pitched two innings on Thursday.
Coupled with the Pirates' loss on Saturday, the Cardinals climbed back to within two games of the division lead in the NL Central.
Jenifer Langosch is a reporter for MLB.com. Read her blog, By Gosh, It's Langosch, and follow her on Twitter @LangoschMLB. This story was not subject to the approval of Major League Baseball or its clubs.