Astros bust out for fifth straight win in Anaheim
Astros bust out for fifth straight win in Anaheim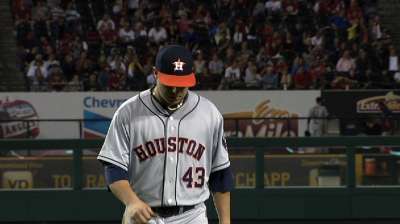 ANAHEIM -- They were nothing more to Astros fans than names attached to scouting reports. They were prospects acquired in trades who the Astros hoped would bolster their farm system and set them up for success at the Major League level in the future.
That future was on display Friday night when starting pitcher Brad Peacock, designated hitter Chris Carter, third baseman Matt Dominguez and outfielder L.J. Hoes -- all of whom were acquired in trades over the past 13 months -- came up big for the Astros.
Peacock held the Angels without an earned run for 6 1/3 innings and Carter went 2-for-4 with a homer and a career-high five RBIs to lead the Astros past the Angels, 8-2, for their fifth consecutive win at Angel Stadium.
The Astros, who have won three of four games, are 8-6 against the Angels this year and just 10-30 against the rest of the American League West.
"I don't know why we've been playing good against them," Carter said. "We're playing loose lately and just having a lot more fun."
Carter and Peacock, who were acquired in February from the A's in exchange for Jed Lowrie and Fernando Rodriguez, have had their struggles this season.
Peacock began the year in the Astros' rotation but soon found himself in the Minor Leagues trying to figure things out. Carter has proven to be streaky and leads the league in strikeouts, but he can change the game with a swing of the bat.
"Chris Carter works extremely hard," Astros manager Bo Porter said. "You may not always get the results you want, but the work ethic, you see it there. Again, it's nights like tonight that remind me why we keep putting him in here because it's power that can change any game."
The Astros led, 4-2, before scoring four times in the ninth inning on back-to-back homers -- a three-run blast by Carter and a solo shot from Dominguez, who was acquired last July from the Marlins in exchange for Carlos Lee.
Hoes, traded to Houston last month from the Orioles in the Bud Norris deal, went 3-for-5 with a single, double and triple for his first career three-hit game.
"We swung the bat really well tonight," Hoes said. "That's the kind of victory you hope for every night."
Peacock (2-4) won for the first time since April 10 at Seattle by allowing four hits and two runs while throwing 98 pitches. In his three starts since returning to the rotation following a stint at Triple-A, he has a 1.86 ERA and 20 strikeouts in 19 1/3 innings.
"I had everything tonight," he said. "It was the best I felt since I've been up here. Glad to have a good one. My curveball was working good, slider was great. Changeup could be a little better, but I had some good ones in there and got some ground balls in there."
Peacock is admittedly pitching with more confidence and has been attacking the zone more. Porter sees a different guy.
"When you come up and go down and you're given certain information of things you need to do to pitch at this level -- Robbie Grossman is another example of what it takes to play at this level -- and these guys are taking heed to the information," Porter said. "They're going down and working on the things in which they need to work on."
The Astros scored three times in the fifth against Angels starter Jerome Williams. Grossman had an RBI single, catcher Jason Castro drew a bases-loaded walk and Carter hit a sacrifice fly to left field that Mike Trout corralled with a diving catch.
"Nothing felt different," Williams said. "I'm trying to throw the ball down in the zone and they got hits off it. I don't want to leave the ball up in the zone and get crushed. Trying to pitch down in the zone, and when they didn't get hits off it, they were patient and took the walks."
The Astros took a 4-1 lead in the seventh inning on an RBI single by Carter that scored Brett Wallace, who led off the inning with a double.
Peacock couldn't survive the seventh inning. A fielding error on shortstop Jonathan Villar opened the door for the Angels, who cut the lead to 4-2 on an RBI single by Grant Green. Josh Zeid replaced Peacock with runners on the corners and one out and got speedy Peter Bourjos to hit into a 5-4-3 double play.
"I've never been much of a ground-ball pitcher historically, but in that situation I'm looking for a strikeout," said Zeid, acquired from the Phillies in 2011 in the Hunter Pence trade. "I'm going to be aggressive and not walk the guy. You don't want to put anybody on base in those situations, especially when you come up with two guys on base and only one out."
Brian McTaggart is a reporter for MLB.com and writes an MLBlog, Tag's Lines. Follow @brianmctaggart on Twitter. This story was not subject to the approval of Major League Baseball or its clubs.