Blue Jays fall late in back-and-forth affair
Blue Jays fall late in back-and-forth affair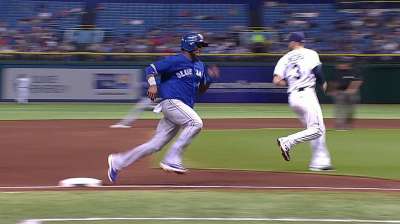 ST. PETERSBURG -- R.A. Dickey was masterful the last time he took the mound at Tropicana Field, tossing a two-hit shutout against the Rays on June 26. He put together a similar performance here last year with the Mets, allowing one unearned run in a 12-strikeout one-hitter.
The Rays' home park is a good place for him to pitch, and Friday night was no different. The result, however, was the opposite of what Dickey has grown used to here in Florida -- yet exactly the kind of disheartening loss the Blue Jays have become accustomed to amid this frustrating season.
Staked to a two-run lead heading into the sixth inning, Dickey coughed it up and let the Rays climb back into a game they went on to win, 5-4, when left-hander Aaron Loup served up a walk-off triple to Jose Lobaton in the ninth inning.
Dickey allowed four runs on six hits and two walks while striking out six over seven innings of work, and his worst frame went like this: check-swing single, walk, RBI groundout, comebacker, go-ahead base hit to left. One piece of solid contact led to two runs and a disappointing finish for Dickey, who allowed as many runs Friday as he had over his previous five starts on the road combined.
"Sometimes it's just the nature of the game, and sometimes it's just a situation we've got to take ownership of what we don't do well and try to execute better the next time. Tonight for me was tough because I had a good knuckleball," Dickey said. "This is a good place for me. It's not often that you give up eight baserunners and four of them score. That was just a very bizarre night. We should have won that game in regulation."
Toronto certainly had its chances. In the eighth inning, they had Brett Lawrie on third and Rajai Davis on second with one out but only came away with one run, on an RBI fielder's choice by Anthony Gose, before Jose Reyes hit into an inning-ending double play.
In the ninth, Maicer Izturis and Jose Bautista led off the inning with back-to-back singles before Rays closer Fernando Rodney shut the door, setting up the Rays' walk-off win.
One might say it was the kind of game the Blue Jays should win, but manager John Gibbons would point out that it's the kind of game they've lost far too often this year.
"Deserve? You go out and win that thing," Gibbons said. "We had the lead, gave it up, had plenty of opportunities, couldn't get it done. Pretty simple. That's why they're at the top and we're at the bottom. It's pretty simple."
It was the Blue Jays' sixth walk-off loss of the season and their sixth defeat in their last seven games against the Rays. Toronto has lost five of its last six, 13 of 16 and 19 of 26 games at Tropicana Field dating back to 2011.
The Jays still could have hoped for extras, after Loup struck out Sean Rodriguez to begin the ninth inning. But he then walked Rays shortstop Yunel Escobar, bringing up Lobaton with one out. The catcher drove the first pitch he saw down the right-field line for the game-winning hit, a moment as gleeful for Lobaton -- with his parents in attendance for the first time in his Major League career -- as it was disappointing for the Blue Jays.
"That's awesome. It's the best feeling I've hever had in my life in baseball," Lobaton said. "I wasn't expecting that. ... Good feeling, good feeling. Thank God that actually happened."
The Blue Jays jumped out to an early lead, scoring in the first inning on Adam Lind's RBI single to right field off Rays right-hander Jeremy Hellickson. Tampa Bay struck back in the third, tying the game as Escobar tripled to the right-field fence and scored on Lobaton's soft liner to center.
But Toronto rallied again in the fifth, as Reyes singled and scored on Edwin Encarnacion's base hit to left -- the first baseman's 90th RBI of the season. They added another run in the sixth, when catcher Josh Thole's fly ball to right field bounced off Matt Joyce's glove, rolled into foul territory and allowed Thole to reach third base. He came around to score on Gose's chopper up the middle.
Tampa Bay climbed back within one run in the sixth inning when Joyce went deep on the 11th pitch of his at-bat against Dickey -- the 27th longball Dickey's given up this year. The Rays pulled ahead in the seventh, when Escobar tied it on an RBI groundout and Sam Fuld smacked an RBI single into left field.
The Blue Jays scored once in the eighth. Two missed opportunities and a walk-off triple later, they were left talking once again about what could have been.
"It's tough because we play a lot of close games like this, and there's games where we get a chance and we crawl back into the game and we seem to let down," Loup said. "And it seems like we've been there all season and we can't make that hump. We're playing good ball. We're just not really catching the breaks."
Adam Berry is a reporter for MLB.com. Follow him on Twitter at @adamdberry. This story was not subject to the approval of Major League Baseball or its clubs.