Rays walk off on Lobaton's ninth-inning triple
Rays walk off on Lobaton's ninth-inning triple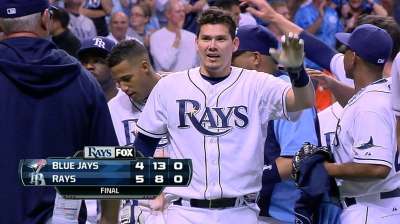 ST. PETERSBURG -- The Rays' traditional post-win dance party awaited inside the clubhouse, but it could not get started without Friday's walk-off hero.
Drenched from a water-jug bath -- the reward for his first Major League walk-off hit and second career triple in a 5-4 victory over Toronto Friday at Tropicana Field -- Jose Lobaton had one more item of business to tend to before joining the party.
He stopped just outside the clubhouse entrance to pose for a photo with his family. For the Venezuelan catcher's parents, Tomas and Maria, this homestand marks the first time they have seen him play in the United States.
"That's awesome," Lobaton said. "That's the best feeling I've ever had in baseball."
Lobaton is the latest in an unlikely list of stars for the Rays, who have walked off twice during their three-game winning streak. Jason Bourgeois' first hit as a Ray beat the Mariners on Wednesday.
The win, paired with a Red Sox loss, moved the Rays to within a game of the American League East lead after a winless trip to the West Coast that had them four games off the pace when they came back home this week.
"When you start getting the impetus coming from different directions, that's a good sign," Rays manager Joe Maddon said. "After the trip out West, I'll take whatever we can get right now."
Lobaton was 3-for-4 on the night, with the first two hits coming off Blue Jays starter R.A. Dickey, whose knuckleball has a history of giving the Rays fits. But Maddon and Lobaton agreed his play in the top of the ninth inning may have been more important.
Representing the go-ahead run, Maicer Izturis loomed at third base as Rays closer Fernando Rodney blazed 98-mph fastballs to Lobaton. The lone changeup of the at-bat began to drift into the dirt. Somehow, Lobaton dug it out, giving him what Maddon calls an RBO (run blocked out).
"That's his best pitch," Lobaton said. "We have to call it. I don't know how I caught that ball. I was so nervous."
Friday's win required a lot more than just Lobaton, however, as the Rays gave away a one-run lead after clawing their way back into the game.
Matt Joyce's solo home run to right field in the sixth, the culmination of an 11-pitch at-bat, gave Tampa Bay the jolt it needed against Dickey. The homer was Joyce's first since June 15, snapping a career-long streak of 123 at-bats without a home run.
"I feel like it's been years," Joyce said. "I almost forgot what that felt like. When you work good at-bats, good things happen. Dickey is tough. You don't know what his ball is going to do and hopefully you run into one. It got us going."
An infield single from James Loney, a walk to Kelly Johnson, a wild pitch and Sam Fuld's single to left turned into two more runs in the seventh.
"We had the lead, gave it up, had plenty of opportunities, couldn't get it done," Blue Jays manager John Gibbons said. "Pretty simple. That's why they're at the top and we're at the bottom. It's pretty simple."
Trusty reliever Joel Peralta allowed Toronto to tie the game in the eighth, forcing the Rays to revive their "swarming" offense one last time.
"There was no, 'Here we go again,'" Maddon said. "I didn't feel that. It was more, 'Let's pick the guy up,' and that's what we did. I hope we continue to see the resilliency, the perserverance. Those are the kinds of things that take you to the promised land."
Struggling starter Jeremy Hellickson kept Tampa Bay close and was removed after allowing three runs over six innings, the first time he had pitched through five innings since July 26.
Hellickson opened the door early when he hit Izturis with a pitch in the first. Edwin Encarnacion and Adam Lind then hit back-to-back two-out singles to score Izturis and take the early lead.
He looked to be in trouble again in the fourth when he began the inning by giving up singles to Lind and Brett Lawrie, but he wiggled his way out of it by inducing a double-play ball from Josh Thole and getting Kevin Pillar to fly out.
"I would still like to go a little deeper," Hellickson said. "It was a lot better than my last three [starts]. I actually gave us a chance to win. It's amazing what these guys can do when we stay within striking distance."
Sam Strong is an associate reporter for MLB.com. This story was not subject to the approval of Major League Baseball or its clubs.