K-Rod leaves game with right groin strain
K-Rod leaves game with right groin strain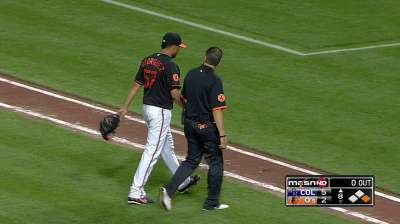 BALTIMORE -- Orioles reliever Francisco Rodriguez exited in the eighth inning of Friday's 6-3 loss to the Rockies with a right groin strain and is considered day to day.
After retiring the final two batters of the seventh inning, Rodriguez served up a solo leadoff homer to Charlie Blackmon -- that landed on Eutaw Street -- to start the eighth and a follow-up single by Dexter Fowler prompted a second visit from head athletic trainer Richie Bancells. Rodriguez left the game after that, limping as he gingerly headed to the home clubhouse.
"It didn't start today," said Rodriguez, who didn't think the injury would require a trip to the disabled list. "It's been the last week, kind of grabbing a little bit. A little soreness. And today was a little worse. Just come in tomorrow, get some treatment and wrap it up and go get 'em. I'll be all right."
The injury is the latest blow to an Orioles bullpen that has had its fair share of struggles lately. With closer Jim Johnson -- who allowed a homer to Todd Helton on Friday -- blowing his last three save opportunities, Rodriguez is a candidate to take over some of the ninth-inning duties.
The O's will back off Rodriguez for at least one game and manager Buck Showalter said after the game that the club optioned designated hitter Henry Urrutia to Triple-A Norfolk to make room for another reliever, who they will add before Saturday's game.
The rookie Urrutia, who made his Major League debut on July 20, hit .269/.269/.308 in 21 games with the big league club.
Acquired in trade with Milwaukee last month, Rodriguez has pitched to a 4.66 ERA in 10 games with the O's, allowing five earned runs on eight hits and two walks in 9 2/3 innings. The veteran said part of the grind in a 162-game season is learning the difference between an injury and soreness, and Friday's issue was more of the latter.
"It's going to take more than that to take me out of there," Rodriguez said of going on the DL. "I will just come in, get my treatment and go out there and get the job done."
"He had it before, he said, in 2011. Felt very similar, and he was able to pitch through it," Showalter said. "Just wrapped it a little better. Hopefully, we can get lucky with it."
Brittany Ghiroli is a reporter for MLB.com. Read her blog, Britt's Bird Watch, and follow her on Twitter @britt_ghiroli. This story was not subject to the approval of Major League Baseball or its clubs.