J-Up keeps Braves scorching hot with walk-off blast
J-Up keeps Braves scorching hot with walk-off blast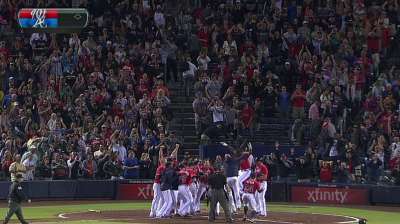 ATLANTA -- While there is not much intrigue surrounding the National League East race, it appears the Braves are determined to spend the remainder of this season marking their supremacy in an authoritative manner.
After blowing an eighth-inning lead and fueling the Nationals' anger by hitting Bryce Harper with two more pitches on Friday night at Turner Field, the Braves celebrated a 3-2, 10-inning victory courtesy of Justin Upton's third career walk-off home run.
"It's a great feeling," Upton said. "When you can go out and win the ballgame for your team, there is nothing better than that."
After retiring Jason Heyward to begin the bottom of the 10th inning, left-handed reliever Ian Krol got ahead of Upton with a 1-2 count and then made the mistake of hanging a 2-2 curveball that Upton got enough of to sneak just over the top of the left-field fence.
Upton's seventh home run this month was the second walk-off shot he has provided the Braves this season. He also ended an April 6 win over the Cubs when he and his brother B.J. Upton both went deep against Carlos Marmol.
"It really doesn't get much better than what we did tonight," Braves starting pitcher Alex Wood said. "J-Up with the walk-off there at the end, that's storybook. That's as good as it gets right there."
With their 18th win in their past 20 games, the Braves increased their lead over the second-place Nationals to 15 1/2 games -- matching the season-high total. Atlanta has created this imbalance in the NL East while winning six straight games against Washington and 11 of the first 14 games played in this season series.
"There's a lot of baseball to be played," Justin Upton said. "We know what we need to do. We need to go out and win ballgames. Our lead is pretty big right now, but crazier things have happened in baseball. So you have to go out and win as many ballgames as possible and you don't give any of them away."
Before beating the Nationals for the third time in extra-innings fashion this year, the Braves nearly wasted the tremendous effort provided by Wood, who recorded a season-high nine strikeouts and allowed just one run in 6 1/3 innings.
Wood's bid to win his third consecutive decision was erased when Jayson Werth produced a game-tying eighth-inning single off Luis Ayala immediately after Luis Avilan had incited Washington's dugout by becoming the third Braves pitcher to hit Harper over the past 11 days, and second within a span of four innings.
"You're not going to hit Harper there, the winning run, lefty on lefty with two outs," Braves manager Fredi Gonzalez said. "That's ridiculous. I know [Harper] is upset with it, and I don't blame him. Nobody likes to get hit, but for it to be intentional, it's not even close."
Gonzalez said he immediately pulled Avilan because he felt he had a better matchup with Ayala against Werth. But Avilan has been his reliable setup man throughout the season and Ayala has seldom been put in these high-leverage situations.
There certainly wasn't any reason for Avilan to tempt fate by hitting Harper immediately after allowing Ryan Zimmerman's two-out double. But the Nationals still had reason to be upset after the Braves' left-handed reliever hit Harper in the back near his left shoulder with a first-pitch fastball.
Four innings earlier, Wood had hit Harper with a 78-mph curveball that did not have any ill intent. But Avilan's errant pitch rekindled the anger Harper felt when he homered off Julio Teheran on Aug. 6 and then was hit with Teheran's first-pitch fastball in his next plate appearance.
"I feel bad for him, especially because I don't want to hit him in that part of the body," said Avilan, who had hit just three of the previous 336 batters he had faced in his career. "It was a bad day for me."
It was yet another good day for Wood, who exited to a well-deserved standing ovation after retiring Wilson Ramos in the seventh inning. Along with cheers, he heard some barking from the University of Georgia fans who saw him finish his successful collegiate career with the Bulldogs just last year.
Just six starts into his career, Wood has solidified his spot in Atlanta's rotation. He has allowed just two earned runs in the 18 1/3 innings he has completed in his past three starts.
"It's great being at home, and I'd be lying if I said I didn't start smiling when I came off there at the end and heard all the [Bulldogs] fans barking," Wood said. "That was pretty cool."
The Braves gained an early advantage courtesy of two unearned runs allowed by Taylor Jordan. Heyward began his fifth consecutive multihit performance with a single in the first inning and then attempted to steal second base on a 3-2 pitch to Upton. Not realizing a ball had been called, Ramos made an errant throw to second base that allowed Heyward to advance to third and score on Freddie Freeman's double-play groundout.
Jordan's misfortunes extended to the third when he got Upton to ground into what would have been an inning-ending double play. But second baseman Anthony Rendon's errant throw to first allowed Paul Janish to score from second base.
Wood allowed the Nationals to cut their deficit to one run when Harper scored on Ian Desmond's double-play groundout after getting hit with the soft curveball to begin the fourth.
"It was real big for us, especially at home in front of the home crowd," Wood said. "We're trying to keep the division lead as big as we can."
Mark Bowman is a reporter for MLB.com. This story was not subject to the approval of Major League Baseball or its clubs.