Nats can't figure out Braves, fall on walk-off homer
Nats can't figure out Braves, fall on walk-off homer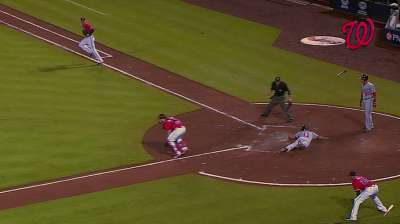 ATLANTA -- Before Friday's game, Nationals manager Davey Johnson said he wanted to show the Braves that his team is a lot better than the way it has played against Atlanta, which had won 10 out of 13 games against Washington this season.
The Nationals showed the pitching was solid, but they didn't show much else as Justin Upton's home run in the bottom of the 10th inning helped the Braves edge Washington, 3-2, at Turner Field on Friday night. The Nationals dropped their record to 59-62 and are still 9 1/2 games behind the Reds for the second Wild Card spot.
"It's not easy losing, that's for sure," Nationals outfielder Jayson Werth said. "It's been kind of the story of the year so far. We're pretty good enough to lose."
The loss was just as devastating as Thursday's 4-3 defeat to the Giants when Rafael Soriano blew the save in the ninth inning. Johnson relied on left-hander Ian Krol to get the Nationals to another inning Friday.
With one out, Upton came to the plate and worked the count to 2-2. Krol was in a similar situation this past Wednesday against the Giants. On a 2-2 pitch, Krol tried to throw a fastball by Brandon Belt, who hit a monster home run over the right-field wall.
Krol thought differently while facing Upton. Krol threw a 2-2 curveball, and Upton crushed it over the left-center-field wall for his 23rd home run of the season.
"The last time I made an appearance was against the Giants. It was a 2-2 count. I threw a fastball up and in and [Belt] hit a home run off of it," Krol said. "My gut was telling me on that pitch [to Upton] to throw a curveball, and I went with it. The selection I thought was better. I thought that was the right pitch. It was not."
In the 10th inning, Krol was scheduled to face three out of four left-handed batters, but Johnson never thought about pitching around Upton.
"He made a bad pitch with a [curveball] and left it on the inside part of the plate, and Upton crushed it," Johnson said. "Upton is a pretty good offspeed hitter. It's just a bad pitch, bad location. Krol is still young."
Right-hander Taylor Jordan -- who has two starts left before his season comes to an end because of an innings limit due to Tommy John surgery he had in 2011 -- was solid in the six innings he pitched. He allowed two unearned runs and struck out three batters.
"I thought I did well," Jordan said. "I got a lot of weak ground balls, and they really didn't hit anything too hard off me. So that's what I go off of, how hard they hit me. I think I did pretty well."
In the first inning, Jason Heyward reached base on a single to center field, stole second and reached third on a throwing error by catcher Wilson Ramos. Heyward then scored on a double-play grounder by Freddie Freeman.
Two innings later, with runners on first and second, Upton looked like he hit into a potential double play, but after getting the relay throw from shortstop Ian Desmond, second baseman Anthony Rendon threw the ball past first baseman Adam LaRoche, which allowed Paul Janish to score.
In the fourth, with Alex Wood on the mound, Bryce Harper scored when Desmond hit into a double play to make it a one-run game. In the eighth inning, Werth tied the score at 2 against reliever Luis Ayala, when he singled to right field, scoring Ryan Zimmerman.
During the game, Harper was twice hit by a pitch. After he was hit the second time in the eighth inning by left-hander Luis Avilan, home-plate umpire Marty Foster issued warnings to both teams.
"I feel bad for him, especially because I don't want to hit him in that part of the body. It was a bad day for me," Avilan said. "I was thinking, 'I hope he doesn't think I hit him on purpose.' You know the situation. We were leading, 2-1. I don't want to put the [go-ahead] run at first. I feel bad. If I'm going to hit him on purpose, I'm not going to hit him almost in his head because it's dangerous."
Asked if the Braves intentionally tried to hit Harper, Johnson said, "I hope not because it's ridiculous. A close ballgame. They have a lot more to lose than we do at this point. So it would be a ridiculous thing to be doing."
Harper wasn't available for comment, but Krol remembered when the Braves hit Harper with a pitch the last time these two clubs met. On Aug. 6, right-hander Julio Teheran hit the side of Harper's right thigh with a four-seam fastball on the first pitch one at-bat after homering off the right-hander. The benches and bullpens emptied, but no punches were thrown.
"They did that the last time we played them. We like to play civilized," Krol said. "We don't like to cheap shot anybody. We go out there and work our tails off. Hopefully, the outcome of the game goes our way."
Bill Ladson is a reporter for MLB.com and writes an MLBlog, All Nats All the time. He also could be found on Twitter @WashinNats. This story was not subject to the approval of Major League Baseball or its clubs.