Jaso's season in jeopardy as symptoms persist
Jaso's season in jeopardy as symptoms persist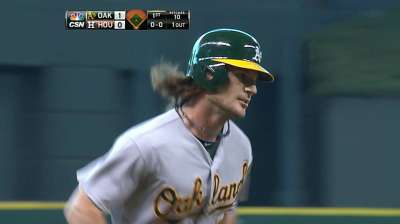 OAKLAND -- Recent developments in John Jaso's recovery from a concussion suffered on July 24 have placed the catcher's return this season in jeopardy.
Oakland's left-handed hitting backstop flew to Pittsburgh on Tuesday for a consultation with concussion specialist Dr. Michael Collins, who assured Jaso that he is expected to make a full recovery. When that might be, however, is still in question.
"Whether he comes back this year, I'm not sure," A's manager Bob Melvin said. "We certainly hold out hope for that, but I don't think anybody can predict that at this point."
Collins told Jaso that the best-case scenario for him to be cleared is three weeks, though that is far from definite. Injuries to the head require particular caution, and returning too early could result in his reaggravating of the injury.
The A's are 121 games into the season after Friday's series opener against the Indians, and even if Jaso's recovery takes the minimum time, he'll still most likely require a rehab stint or two in the Minor Leagues before he's ready to rejoin the big league club.
Jaso is partaking in visual exercises that stimulate his brain in attempt to speed up the recovery period. He does them twice a day, mostly on the computer, completing tasks such as focusing on an object in the foreground and blurring it to look at something further in the background.
"They don't take too long, because at some point you start getting a headache and that's a point where you don't want to get to," said Jaso, who added that he wakes up with most mornings with ringing in his ears. "I get nauseous and queasy and car sick. I reach that point and then back off on it."
Prior to his visit with Collins, Jaso had yet to experience symptoms of nausea until playing catch with Fernando Rodriguez earlier in the week. The large background of the empty O.co Coliseum combined with following the trajectory of the baseball toward his glove prompted such feelings.
He also ascended to the press box to watch field maintenance workers transform the Coliseum into an arena for the Raiders, which made him lose his balance.
"I've never had vertigo or anything before. I'm totally fine with heights, but everything started moving around and I started feeling off-balance like I could fall over," Jaso said. "The symptoms are still there."
Melvin said the incident playing catch was a main reason for Jaso flying to Pittsburgh. Otherwise, Jaso has been fine participating in normal exercises like weight lifting and running on the treadmill, which he hopes will help quicken his return once he is cleared for baseball activity.
"The question is when," Jaso said. "I know where the end of the season is and also I know rosters are expanding in September. I'm just going to keep on doing these exercises. I'm going to stay as physically in shape as possible for baseball, so if I do get activated I can basically just grab a bat and start going after it. I don't want it to be where I'm ready to get activated and now I start getting back in shape. I want to be ready for that day."
Jaso has hit .271 with a .387 on-base percentage in 70 games this season.
"The timetable on this thing, we just don't know yet," Melvin said. "He's certainly not going to do anything until he's able to do baseball activities, and that's when you get a better idea of when he can come back. He's not there at this point."
Jeff Kirshman is an associate reporter for MLB.com. This story was not subject to the approval of Major League Baseball or its clubs.