Kennedy pays for mistakes against Mets
Kennedy pays for mistakes against Mets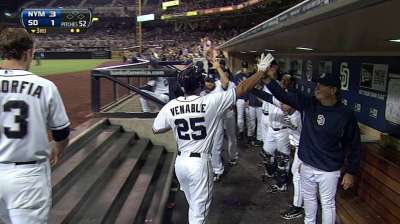 SAN DIEGO -- There were any number of pitches, sequences and outcomes Padres pitcher Ian Kennedy could lament on Friday.
The three home runs Kennedy allowed against the Mets? That's far too obvious, though they certainly contributed heavily to a rough night for the right-hander.
The mistake that might have stung the most wasn't one that ended with a baseball leaving Petco Park, but instead an ill-timed walk that went a long way in the Mets 5-2 victory over the Padres in front of a crowd of 25,604.
Kennedy walked four in a short start, including issuing a free pass to opposing pitcher Jon Niese, which preceded a two-run home run to Daniel Murphy in the fourth inning that essentially served as a decisive blow.
"That wasn't Ian Kennedy," Padres manager Bud Black said of the walks.
Five days ago, Kennedy opened his start against the Reds with seven scoreless innings. All told, Kennedy needed 97 pitches to get through eight innings.
He didn't get nearly as far Friday against the Mets, allowing five runs on seven hits in 4 2/3 innings with four walks and seven strikeouts.
"Sometimes it was good, sometimes it wasn't," Kennedy said. "It was back-and-forth for me."
Kennedy allowed two walks and a hit in the first inning but didn't allow a run. He allowed two more base runners in the second inning and a run before the Mets (56-64) got two long home runs in the third from Marlon Byrd and Ike Davis.
"I wasn't as sharp as I wanted to be all night," Kennedy said. "You talk about the ballpark [playing big] ... but if you make mistakes anywhere, they will go out. Overall, my command was kind of spotty."
That wasn't the case for Niese (5-6), who allowed one run on six hits in six innings.
"I felt like I was able to locate my pitches where I wanted to early, and then late I kind of got away with a few things. But overall, it felt good."
Niese also finished with nine strikeouts. New York pitchers combined for 13 strikeouts, giving them 28 in two games against the Padres.
"That's a little alarming," Black said. "We'll address that."
San Diego second baseman Jedd Gyorko had three of the Padres' nine hits. Gyorko felt the abundance of strikeouts had more to do with the pitching of Thursday's Mets starter Zack Wheeler and Niese than any overriding issue.
"Wheeler had good stuff and Niese had good stuff. I think you're going to go through stretches like that sometimes," Gyorko said.
No more so than Padres center fielder Will Venable, who extended his career-best hitting streak to 13 games in the third inning when he drove a fastball over the wall in right field for his 16th home run.
"He's playing great," Black said.
Overall, the Padres (54-68) aren't.
They've dropped eight of their last 10 games and have struggled in terms of scoring runs without two of their top hitters -- All-Star shortstop and leadoff hitter Everth Cabrera and left fielder Carlos Quentin. Cabrera has been suspended for the rest of the season, and Quentin still has a strained right knee and hasn't played this month.
That said, and even though they trailed 3-1 after three innings, the Padres were still within arms' reach of the Mets. But the walk to Niese to start the fourth inning followed by the home run to Murphy down the right field line might have stung a little worse.
"The fastball location wasn't where it was in Cincinnati five days ago," Black said. "He left the ball over the plate to Davis. And the backbreaker was the home run to Murphy."
The Padres got a run back in the eighth inning as Chase Headley doubled down the left-field line to start the inning and then scored when Yonder Alonso lined a single to center field.
But the Venable home run and the Alonso single were about the extent of the Padres' offense. Gyorko, for one, thinks that will change.
"I don't think it will be an ongoing problem. We've got good hitters here," he said.
Corey Brock is a reporter for MLB.com. Keep track of @FollowThePadres on Twitter. This story was not subject to the approval of Major League Baseball or its clubs.