Chapman blows save as win streak ends at five
Chapman blows save as win streak ends at five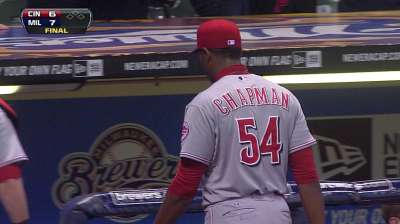 MILWAUKEE -- If the Reds were not comfortable entering the bottom of the ninth inning Friday night, they may never be.
With a one-run lead on the Brewers, the Reds had closer Aroldis Chapman strolling in from the bullpen to face a team he had dominated in his career to the tune of 21 innings and one earned run.
But that is why they play the games.
Jonathan Lucroy, who was 0-for-5 against Chapman lifetime with five strikeouts, sent a 1-2 slider from the hard-throwing lefty into the seats in left field for a walk-off, two-run home run and a 7-6 Brewers win at Miller Park.
The loss snapped a five-game Reds winning streak, and spoiled their chance to leapfrog the Cardinals into second place in the National League Central and keep pace with the first-place Pirates. Instead, Cincinnati dropped to 3 1/2 games behind Pittsburgh and remained a half-game behind St. Louis in third place.
"Boy, that's a tough one to lose, but we've lost tough ones before," Reds manager Dusty Baker said. "[Lucroy] was all over Chapman that inning, because he was fouling off some tough pitches. And [Chapman] hung a slider to him and he didn't miss it."
Lucroy fouled off five-straight Chapman heaters -- the last three of which came in at 99 mph -- and turned on a hanging slider with Jean Segura at first base.
The right-handed catcher's 17th home run ended a back-and-forth game that saw Cincinnati give away two leads before jumping ahead, 6-5, on a Todd Frazier RBI single in the seventh inning.
But Lucroy had some payback on his mind when he stepped to the plate in the ninth.
"You don't remember? I was his first [batter] in the big leagues," Lucroy said, referring to Chapman's Aug. 31, 2010, Major League debut in Cincinnati. "He was throwing 105 [mph], all excited. Yeah, that wasn't cool."
On Friday, Lucroy got a piece of just enough fastballs to get a shot at Chapman's slider that he took out for his first career walk-off home run.
"You always want to be aggressive on the fastball, because if he throws an offspeed pitch, your bat's going to get sped up to it," Lucroy said. "That's what he did. He did me a favor, really, because I was fighting that fastball off inside. I'm sure that will be the last time that happens if I face him again."
Chapman was on the mound for the fifth time in six days, and Lucroy could tell the difference from the pitcher who closed out Cincinnati's Game 1 win Thursday to the one he saw Friday night.
"He's still throwing 99, 98, which is still hard, but I think he was 101-102 [Thursday] night, and that's a big difference," he said.
The blown save was Chapman's fifth in 35 chances this season, but his first in seven chances against the Brewers in his career. Milwaukee batters were 5-for-65 (.077) against him with four walks and 34 strikeouts before Segura led off the ninth by hustling for an infield single and Lucroy followed with the winning home run.
The two runs in the ninth were the second and third runs given up by Reds relievers in the game. Cincinnati's bullpen entered Friday with a 17 1/3-innings scoreless streak and five consecutive scoreless appearances.
Baker defended his closer's pitch selection on his final offering of the game.
"Before people were saying, 'You can't just throw fastballs,' and then you throw a breaking ball and, 'Why didn't you throw a fastball?'" Baker said. "Those guys on the other side of the field, they're getting paid to hit, too. It doesn't always go your way. You want it to go your way all the time, but it just doesn't. That's not how the game is designed."
Lucroy's blast spoiled a big offensive day from Frazier, who entered the game hitting .231 on the year. Frazier finished with three hits: a two-run single in the first, a solo home run in the fourth and a tie-breaking RBI single in the seventh. His last hit off Brewers reliever Rob Wooten came with two outs, and after the Brewers tied the game at 5 in the sixth, to put the Reds back on top.
"You can't get them all," Frazier said. "Chapman's still a great pitcher. A guy made a good swing on a good pitch. It happens. People go on streaks and things go the way they go. We're not really worried about it. Tomorrow we'll get 'em and we'll be ready to go."
After the Brewers slapped three runs on Reds starter Mike Leake to take a 4-2 lead in the third, Frazier hit his 12th home run of the year off Brewers starter Tom Gorzelanny in the fourth. Chris Heisey followed an inning later with his sixth home run, a two-run shot off Gorzelanny to put the Reds on top, 5-4.
The Brewers evened the score at 5 in the sixth on an RBI single up the middle from Segura off Reds reliever Alfredo Simon. The two-out run snapped an 18-inning scoreless streak by the Cincinnati bullpen.
The Brewers' third-inning rally started with a one-out Segura bloop toward shallow center field. Brandon Phillips glided under the shallow fly and attempted to make an over-the-shoulder basket catch, but the ball slipped out of his glove and he booted it off his knee far enough for Segura to slide into third with an unlikely triple.
Two pitches later, Lucroy lined a single past a pulled-in infield to tie the game at 2. Three batters later, Khris Davis lined a two-run double into the left-center field gap to stake the Brewers to a 4-2 lead.
Leake turned in a rare rough outing for a Cincinnati starter. He lasted just five innings, allowing four earned runs on nine hits and two walks, striking out three. He threw 81 pitches, 54 for strikes. Gorzelanny's line finished at 4 2/3 innings, six hits, five earned runs, three walks and five strikeouts. He threw 87 pitches -- 37 coming in a lengthy first inning. For Baker, there was no time to lament a loss during a pennant race.
"We've just got to bounce back tomorrow and start another streak," he said.
Kevin Massoth is an associate reporter for MLB.com. This story was not subject to the approval of Major League Baseball or its clubs.