No late-inning magic for D-backs vs. Pirates
No late-inning magic for D-backs vs. Pirates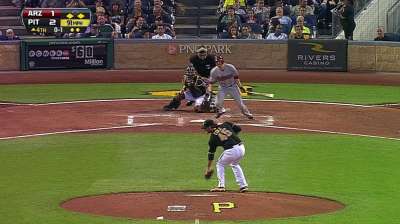 PITTSBURGH -- The D-backs' eastern road trip did not start off the way they hoped as they fell, 6-2, to the Pirates on Friday night in front of a sellout crowd at PNC Park.
The loss snapped Arizona's three-game winning streak and the D-backs have now lost seven of the 10 games they've played on the road since the All-Star break.
"It's just one of those things because we prepare the same way, we come here early for batting practice and everything," catcher Wil Nieves said. "It's just one of those years where we play better at home. Hopefully we end that streak of playing bad tomorrow."
That would be advisable, because there are still nine games left on this trip, which also includes stops in Cincinnati and Philadelphia, and the D-backs' postseason hopes dim with each loss. The red-hot Dodgers won again Friday as they increased their lead over Arizona in the National League West to 8 1/2 games.
The D-backs are 6 1/2 games in back of the second NL Wild Card spot, trailing the Reds and Cardinals.
Friday's game marked the third start for right-hander Brandon McCarthy since he was activated from a two-month stint on the disabled list, and he is still searching for his cut fastball.
"Mostly my cutter hasn't come back off the DL with me," McCarthy said. "I don't know where that's gone, but it hasn't been sharp. It hasn't been the pitch that I'd like it to be, so I've had to rely on my sinker, which is OK, but if I can complement it with something else -- it's kind of been a one-pitch show for the last few starts. To be successful, I need to add some more in there."
McCarthy (2-7) allowed four runs on seven hits before being removed with runners on first and second with two outs in the sixth inning.
When he reflects on the game, it is the third inning that McCarthy will likely lament the most.
McCarthy retired the first two hitters in that inning before walking Neil Walker. Things then spiraled for him as Andrew McCutchen collected a broken-bat double to left and Pedro Alvarez followed with a two-run single to center to give Pittsburgh the early lead.
"You don't ever want to walk anybody with two outs," D-backs manager Kirk Gibson said. "It cost us."
The D-backs pulled even in the fourth when Pirates starter Gerrit Cole suffered some wildness of his own, walking Paul Goldschmidt and Aaron Hill with one out.
Both walks came around to score as Martin Prado and A.J. Pollock had run-scoring singles during the frame.
Cole, though, was able to shut the D-backs down after that until he left for a pinch-hitter in the bottom of the sixth.
"After he gave up those runs, he settled down, found his best command, he finished strong," Pirates manager Clint Hurdle said. "Needed him to get us to the sixth, and was able to do that."
McCarthy, though, was unable to hold the Pirates.
In the fifth, Starling Marte singled with one out and Walker doubled him home. McCutchen then singled to center to score Walker and give the Pirates a 4-2 lead. Jose Tabata added a two-run homer for Pittsburgh in the eighth.
"I think I pitched a little better than the numbers ended up showing," McCarthy said. "But it was kind of the wrong pitches at the wrong times, I guess, that led to some bad situations. I wasn't entirely sharp, but I feel like I need to do a better job of getting through that and kind of mitigating the damage."
The D-backs will have to find a way of containing the top three in the Pittsburgh order as Marte, Walker and McCutchen went 5-for-11 with four runs scored.
"We've got to pitch them better," Gibson said. "We've got to move the ball around a little bit on them. We got a little bit predictable."
Steve Gilbert is a reporter for MLB.com. Read his blog, Inside the D-backs, and follow him on Twitter @SteveGilbertMLB. This story was not subject to the approval of Major League Baseball or its clubs.