After Bucs regain lead, Cole stifles D-backs
After Bucs regain lead, Cole stifles D-backs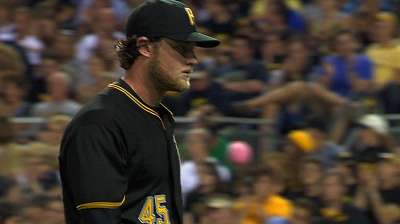 PITTSBURGH -- "The past shapes your future," Clint Hurdle often says.
Yes, the Pirates' cerebral manager seems to have a saying for every situation. Sometimes, they are just vain words that sound good. But often, they document what transpires on the field.
The words were the commentary of Friday night's events at PNC Park, where the first-place Bucs downed the D-backs, 6-2, to move three games ahead of the Cardinals and 3 1/2 ahead of the third-place Reds, both of which lost Friday.
Anyone bothering with the inset will also note that this victory came over the runner-up team for the second National League Wild Card spot, putting the Pirates 9 1/2 games ahead of Arizona. Leading their division, at the moment the Pirates could care less about that secondary race.
Gerrit Cole and Starling Marte both showed a sellout crowd of 39,091 how they had learned from past mistakes.
Cole was the quicker learner. Two innings after throwing back a 2-0 fourth-inning lead, he shut down Arizona the second time he had the chance to put himself in position for his sixth victory.
"We struck, and it was my job to go out and shut them down, and I didn't," Cole said. "I'm just thankful my guys picked me up. That second time, I was going to learn from that inning, and made sure there was going to be a zero that inning. I was going to leave it all out there."
Marte? He made numerous catches in left field -- each with two hands, a few days after his one-hand drop of a ninth-inning fly in St. Louis led to a difficult Pittsburgh defeat in extra innings.
"Just more security," Marte said through his infectious grin. "I'm still confident. Nothing changed."
The Pirates' second go-ahead two-run rally against Arizona starter Brandon McCarthy featured the same characters as had the first, two innings earlier. Marte singled with one out in the fifth and was on the run as Neil Walker blistered a ball up the right-center alley to the wall, thus easily scoring to break the 2-2 tie. Andrew McCutchen followed with the single to cash in Walker's double.
"We've got to pitch them better," Arizona manager Kirk Gibson said of the top of the Pittsburgh batting order. "We've got to move the ball around a little bit on them. We got a little bit predictable."
There was, however, one major difference between the two Pittsburgh strikes. The second was answered with a shutdown inning by Cole, who had given back his initial two-run lead.
Cole was given, and passed, a classic makeup test. His fourth-inning troubles had begun with Paul Goldschmidt, the first baseman responsible for a disproportionate share of the D-backs' offense. The leadoff hitter in the sixth was the same Mr. Goldschmidt.
"Whether I could do it myself or needed help at the end of it, there was going to be a zero that inning," reiterated Cole.
He retired both Goldschmidt and cleanup hitter Aaron Hill on grounders and, after a two-out single by Martin Prado, got Wil Nieves to fly out to both hands of Marte.
"After they scored, [Cole] seemed to find the command he needed," Hurdle said. "The breaking ball came into play far more. He was able to get the ball in on some right-handed hitters with his arm-side fastball. He settled down and finished strong. We needed him to get us to the sixth, and he was able to do that."
Jeanmar Gomez picked up Cole with two no-hit innings and Mark Melancon worked his own perfect ninth -- missing out on a save because Jose Tabata's two-run homer in the bottom of the eighth had opened up the four-run lead.
The hardest-hit ball through three innings, unquestionably, was McCutchen's rip to left field in the first inning. Promisingly, he delivered it with Marte on second, thanks to his game-opening single and 35th stolen base. Unfortunately, McCutchen hit it too hard, hard enough for it to carry to left fielder Adam Eaton and become an out.
McCutchen learned his lesson: Next time up, after Walker had drawn a two-out walk in the third, he looped a softer fly that landed in the left-field corner for a double. Pedro Alvarez converted it with a liner to center for a two-run single and a 2-0 lead.
"That's baseball -- a hard-liner into an out, then two broken-bat hits," said McCutchen, including his fifth-inning single in that category.
That first strike led to the recurring recent woes of Pirates starters inability to match a score with a zero; for the fourth time in five games, the Bucs' early scoring was immediately matched in the ensuing half inning.
Cole asked for it, issuing back-to-back one-out walks to Goldschmidt and Hill, then advancing them with a wild pitch before Prado's RBI single. With two outs, A.J. Pollock also singled to center to tie it at 2.
"Did he step off the gas?" Hurdle asked, rhetorically. "I'm not sure. But you walk two and throw a scud ... that complicates things."
"Just didn't make the pitches when I had to," said Cole. "And I froze up on that ground ball up the middle [Pollock's hit, through the box]; so there was some frustration there."
In addition to the two runs, Cole also gave up at least one inning. The 33 pitches he had to make in that fourth shortened his night. But he did finish the sixth, something he had not done in either of his two prior starts, having allowed five hits and two runs, with only the two fourth-inning walks and five strikeouts.
McCarthy allowed seven hits and four earned runs in his 5 2/3 innings, with three walks and five strikeouts.
Tom Singer is a reporter for MLB.com and writes an MLBlog Change for a Nickel. He can also be found on Twitter @Tom_Singer. This story was not subject to the approval of Major League Baseball or its clubs.