Throwback jerseys, tribute acts featured this weekend
Throwback jerseys, tribute acts featured this weekend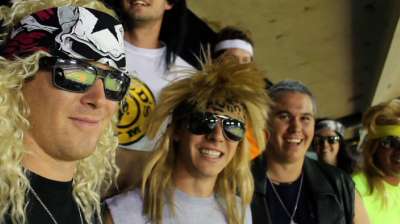 ANAHEIM -- When the Angels take the field this weekend, they will look a bit different.
Although the names in the Angels' lineup have been a bit of unfamiliar lately, the look on Friday and Saturday will be the result of something different -- Flashback Weekend.
As part of the weekend's theme, the club will wear the 1989 California Angels jerseys Friday and the 1961-65 Los Angeles Angels jerseys Saturday.
The throwback jerseys will be the only on-field changes, but the tribute to the past also includes a pair of postgame concerts.
Following Friday night's postgame fireworks show, Queen Nation, a Queen tribute band, will perform in celebration of '80s Night.
Rain, a Beatles tribute band, will take the stage Saturday as the Angels host '60s Night.
William Boor is an associate reporter for MLB.com. This story was not subject to the approval of Major League Baseball or its clubs.