Niese fans nine as Mets overpower Padres
Niese fans nine as Mets overpower Padres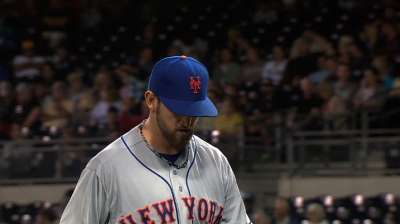 SAN DIEGO -- For a third-place team with its franchise player on the disabled list, there is an uncommonly loud buzz around the Mets these days. Matt Harvey has blossomed into a superstar. Zack Wheeler is improving on a weekly basis. And now Travis d'Arnaud is set to join the Mets, fitting another promising young piece into place.
Yet, it is important not to forget about Jon Niese, who established himself as a cog before any of his more headline-grabbing teammates. Niese struck out a season-high nine Padres in his second start back from the disabled list Friday, leading the homer-happy Mets to a 5-2 victory at Petco Park.
"Hopefully it's a good sign for things to come in the future," Niese said. "There's no reason why it shouldn't be, and with Travis coming up, it's nice. It's good for those guys to get some experience."
As Mets manager Terry Collins noted, it was also good for Niese to last increasingly deeper into a game, throwing 111 pitches over six innings.
Niese acknowledged after his previous outing that, for the first time since April, he was pitching without pain in his left shoulder. And the results have been plain to see. After allowing leadoff hits in the first and second innings Friday, the Mets' Opening Day starter struck out three consecutive batters on each occasion. Though he gave up a hit in all six of his innings, Niese allowed his only run on Will Venable's two-out homer in the third.
Since returning from a two-month DL stint with a partially torn rotator cuff, Niese is 2-0 with a 3.75 ERA, 14 strikeouts and two walks in 12 innings.
"Looking at his [overall] pitching line, the hits per innings and the walks are a little up, but I thought his stuff looked better than that tonight," Padres manager Bud Black said. "He threw some cut fastballs in the right-handers hands that were good. Overall, he looked good."
"We knew that there had to be something wrong, that something wasn't right," Mets manager Terry Collins said of Niese's struggles earlier this season. "This guy's too good a pitcher."
The Mets have certainly supported Niese since his return, backing him with nine runs last weekend in Arizona and five in Friday's first four innings. After Eric Young Jr. sparked the scoring with an RBI groundout in the second inning, Marlon Byrd and Ike Davis greeted Padres starter Ian Kennedy with back-to-back homers to open the third. It was Davis' first homer since July 26, and just his second since returning from the Minors on July 5.
"I finally caught up to one and drove it out of the yard," said Davis, who is hitting .283 with 32 walks since returning from Triple-A Las Vegas. "It obviously felt good. I haven't done that in a while."
An inning later, Daniel Murphy ripped a two-run homer to right, giving the Mets a four-run cushion. Kennedy could not escape the fifth, walking four batters and allowing seven hits.
LaTroy Hawkins, who was unavailable Thursday after being hit in the groin area with a comebacker a day earlier, returned in the ninth to pick up his fourth save.
The other highlight for the Mets was catcher Anthony Recker, who called Niese's game and finished 3-for-3 at the plate. A last-minute replacement for starting catcher John Buck, who left the team to join his wife in New York for the birth of their third child, Recker was certainly motivated to make the most of his opportunity; once d'Arnaud arrives, he will slip one more notch down the depth chart.
"I just hope I can go out there and prove that I belong here and that I can help the team win a game," Recker said. "I leave that other stuff up to them. If this helps me stay here or earn a spot or whatever it is, great. If not, that's fine too. Hopefully we just get some wins when I play."
On Friday, the Mets did, stringing together consecutive victories in San Diego after being swept by the Dodgers earlier this week. The Mets won Thursday on the strength of Wheeler's strong outing, then Friday thanks to Niese. Both pitchers are under team control at least through 2018.
On Saturday, d'Arnaud will be in the lineup, giving the Mets yet another glimpse at a future that is rapidly becoming the present.
"We're all excited to see Travis," Collins said. "Like a lot of these guys, there's a huge buildup taking place. Some of the reports are pretty impressive, and you hear about them, so I'm pretty excited to see him play."
Anthony DiComo is a reporter for MLB.com. Follow him on Twitter @AnthonyDicomo. This story was not subject to the approval of Major League Baseball or its clubs.